Official ID4 tournament organised by Sega will start this week in Hong Kong.
Registration starts tomorrow (Wed evening 8pm at Mong Kok) and will be split into 8 preliminary rounds.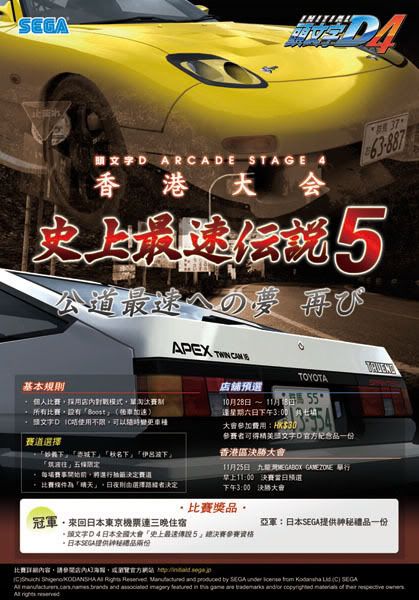 The prelims will be held every weekend (Sat/Sun) at different Gamezone venues around HK and each prelim will have a maximum of 16 entrants. The best 2 in each prelim round will progress into the finals.
10/28 ~ 11/18 3:00pm start
(Prelim 1) 10/28 (Sun) SMART GAME - Mong Kok (Qualified: Taromisaki + MAN)
(Prelim 2) 11/03 (Sat) GAME ZONE - Tsuen Wan (Qualified: Black Dog + KIT)
(Prelim 3) 11/04 (Sun) FUN WORLD - Shatin (Qualified: CKF + WCKit)
(Prelim 4) 11/10 (Sat) GAME ZONE - Yau Ma Tei (Qualified: Bigger + 文俊祥)
(Prelim 5) 11/11 (Sun) FUN ZONE - Kwai Fong (Qualified: 謝拉特 + Odie)
(Prelim 6) 11/17 (Sat) GAME ZONE - Mong Kok (Qualified: 零號 + TOM)
(Prelim 7) 11/18 (Sun) FUN@APM - Kwun Tong (Qualified: 追風 + 波仔)
Entrance Price:HK$30
HK Finals
11/25 MEGABOX GAMEZONE - Kowloon Bay
11am Prelim 8 + Selection Process (Qualified: Wing + 華)
3pm The Finals :
Last 16
Odie vs Taromisaki - Myogi DH
Black Dog vs 波仔 - Irohazaka DH
Bigger vs CKF - Tsukuba OB
Wing vs 追風 - Akina DH
文俊祥 vs 華 - Akina DH
KIT vs TOM - Irohazaka DH
MAN vs WCKit - Akina DH
謝拉特 vs 零號 - Myogi DH
Quarter-Finals
Odie vs Black Dog - Irohazaka DH
CKF vs Wing - Myogi DH
KIT vs 華 - Akina DH
零號 vs MAN - Irohazaka DH
Semi-Finals
Odie vs CKF - Akagi DH
MAN vs KIT - Akina DH
Final
CKF vs MAN - Akina DH
Winner : CKF
Rules
* Maximum of 16 entrants per preliminary round
* Singles only and uses in-store battle - one round elimination
* All battles are with Boost On
* No limit on how many IC cards are used and all cars are freely changeable
* Toss of coin to decide: Winner decides either course or left/right starting position. The other person gets the other choice.
* Courses are limited to Myogi DH, Akagi DH, Akina DH, Iro DH and Tsu OB
* Straw picking decides the course. There are 7 straws in total each with the aforementioned 5 courses including two wild straws.
* All courses are run in the dry. Whoever gets to choose the course also decides on Day/Night
* The top 2 will progress into the finals and will not be able to enter for the remainder of the prelims
* Losers can re-enter again in later prelim rounds and there are no limits to how many times you can enter.
Prizes
Winner:
Return ticket to Tokyo, Japan including 3 night Hotel + Trophy
Initial D4 Sega National Tournament Entry into the last 16 「史上最速傳說5」
Mystery Sega gift prize *2 (Selection of 3 Full Tuned Japanese cards and Initial D4 model car)
1st Runner up:Initial D4 model car
http://forum.racegame.org/read.php?tid=46370&fpage=1
This post has been edited by Odie on Nov 26 2007, 03:08 AM