With the help of the hype surrounding the new Initial D movie, Bandai Namco recently released the Android version of their popular mobile game ドリフトスピリッツ (Drift Spirits) The iOS version was available since last year, but just recently been attracting some attentions. (Check out the TV commercial below)
The game features an impressive lineup of cars from six different manufactures. (Yes, AE86 is featured in this game, along with many other cars seen in Initial D.) Players can do story mode or VS mode and other interactive online mode. The reason why this game wasn't that well known before is because it is exclusively available in Japanese. There is no language option, so many die-hard Initial D fans who are not well versed in Japanese were intimidated to try it, not to mention you have to change the country/region for your App Store account to Japan before you can even download it.
Besides the non-obligatory in-game token purchase, the game is completely free of charge for both iOS and Android. The graphics are unmatched by many other mobile racing games. The gameplay is however, entirely depend on your ability to understand Japanese. All the controls and on-screen instructions are in Japanese. I mean sure, you can whip out your dictionary and translate the meaning, but it takes the whole experience out of it.
| Official Site |
» ドリフトスピリッツ | バンダイナムコゲームス公式サイト |
http://drispi.bngames.net/
| System Requirement |
» iOS 5.1 and up for iPhone, iPad and iPod touch.
» Android 4.1 and up
| How to get it |
» For iOS device, there are two methods.
-- Download on iTune and sync |
https://itunes.apple.com/jp/app/drift-spirits/id694480800
-- Click on this directly on your iOS device |
http://wpp.jp/drispi_app/
» For Android users, simply click on the link below.
-- Download on Google play and sync it over to your device:
http://goo.gl/D4r4mx
| TV commercial |
» 「ドリフトスピリッツ」プロモーション映像 |
http://youtu.be/9XEb8ksTJjs
| Editor's Note |
I went through the troubles to change my iPhone's country/region to Japan to download this game. I was not disappointed. The layouts and gameplays are both superb. It is what you would expect for a game that's attention to details. The images in this post are ACTUAL gameplay screenshots. Happy drifting!
P.S. Here is a simple tutorial to change the region/country on your iOS, by yours truly -
http://imgur.com/a/au9rv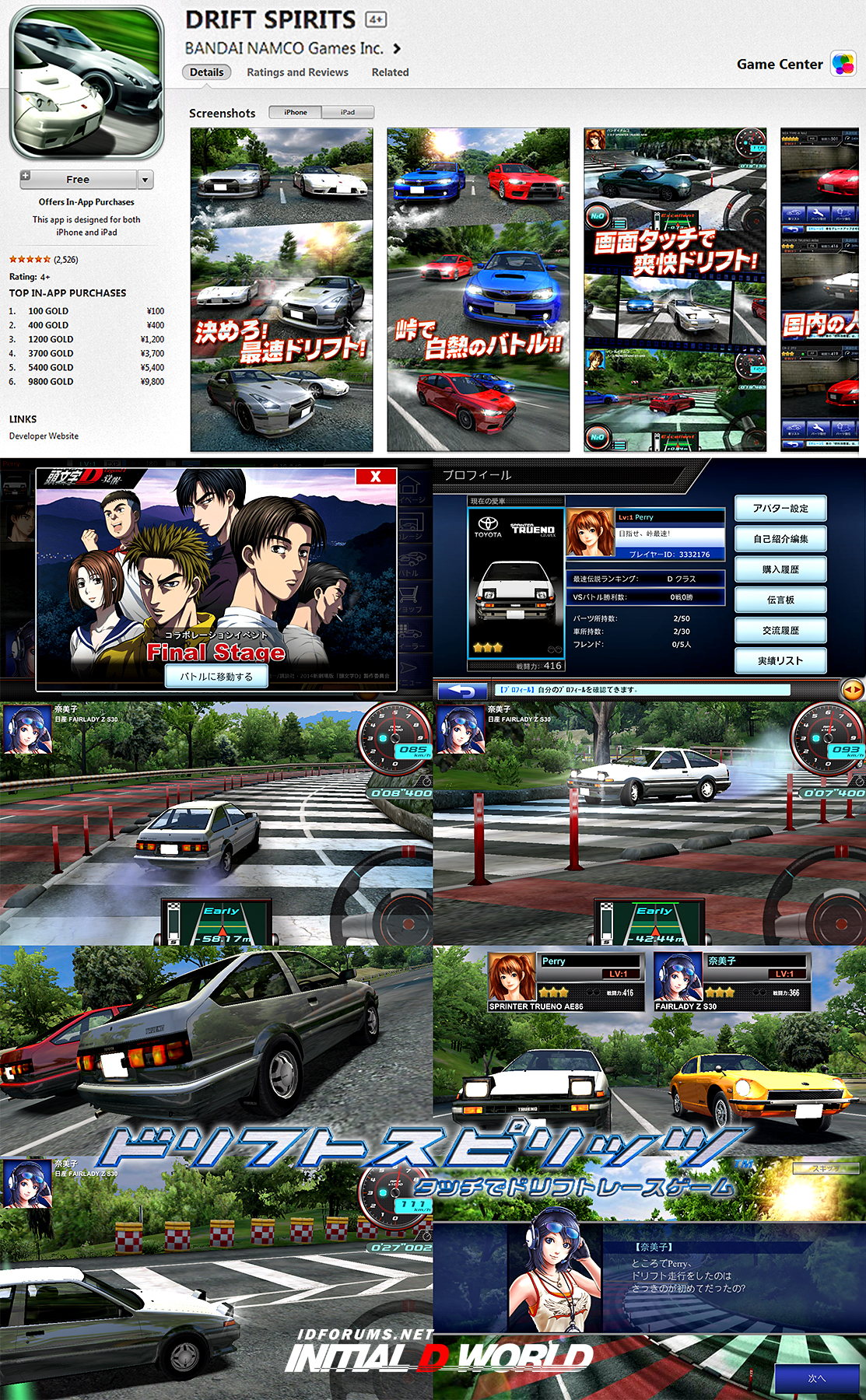 Image size reduced, original size: 1113 x 1800.
Click here
to view the image in its original dimension.