On 8/6 Day, 講談社 (Kodansha) published a 216-page book called「頭文字Dの軌跡 挑戦の記」"Initial D Official Guidebook: The Path of Initial D, Chronicle of Challenges"
Within it, it contains a super detailed interview with the author Shuichi Shigeno that spans a whopping 64 pages, probably the longest interview Mr. Shigeno-san has ever done. In this interview, he talks about the experience and insight he gained from drawing the cars in Initial D. He talks about his inspiration, and how he got the idea from visiting 榛名山 (Mt. Haruna) in the very beginning, imagining himself as the protagonist Takumi Fujiwara.
Shigeno-san gave very detailed description on some of the scenes, almost like a play-by-play commentary. The book also contains lots of remarks and commentary from the senior development in the Japanese automotive industry, they went in-depth on why some cars like FD3S were chosen for the series.
The book also contains the Extra Edition: Impact Blue Sentimental White and promotional material, reviews of the Initial D New Movie Legend 1 -Awakening- that is coming out in theaters on August 23rd.
For ¥980 ($9.55 USD), this seems like a great deal all in itself. It is certainly something to collect if you are a die-hard Initial D fans. Order it now if you haven't already done so!
| Order Links |
» amazon.co.jp |
http://amazon.co.jp/dp/4063770664
(Worldwide)
» cdjapan.co.jp |
http://cdjapan.co.jp/product/NEOBK-1685491
(Worldwide)
» rakuten.co.jp |
http://books.rakuten.co.jp/rb/12839133
(Ship to Japan only)
| Sources |
» 頭文字Dの軌跡 挑戦の記 |
http://yanmaga.jp/spcontents/ini_d_challenge
»【頭文字D × レスポンス】|
http://ameblo.jp/worldcarnews/entry-11911166845.html
» しげの秀一、語る |
http://minkara.carview.co.jp/userid/199066/blog/33752221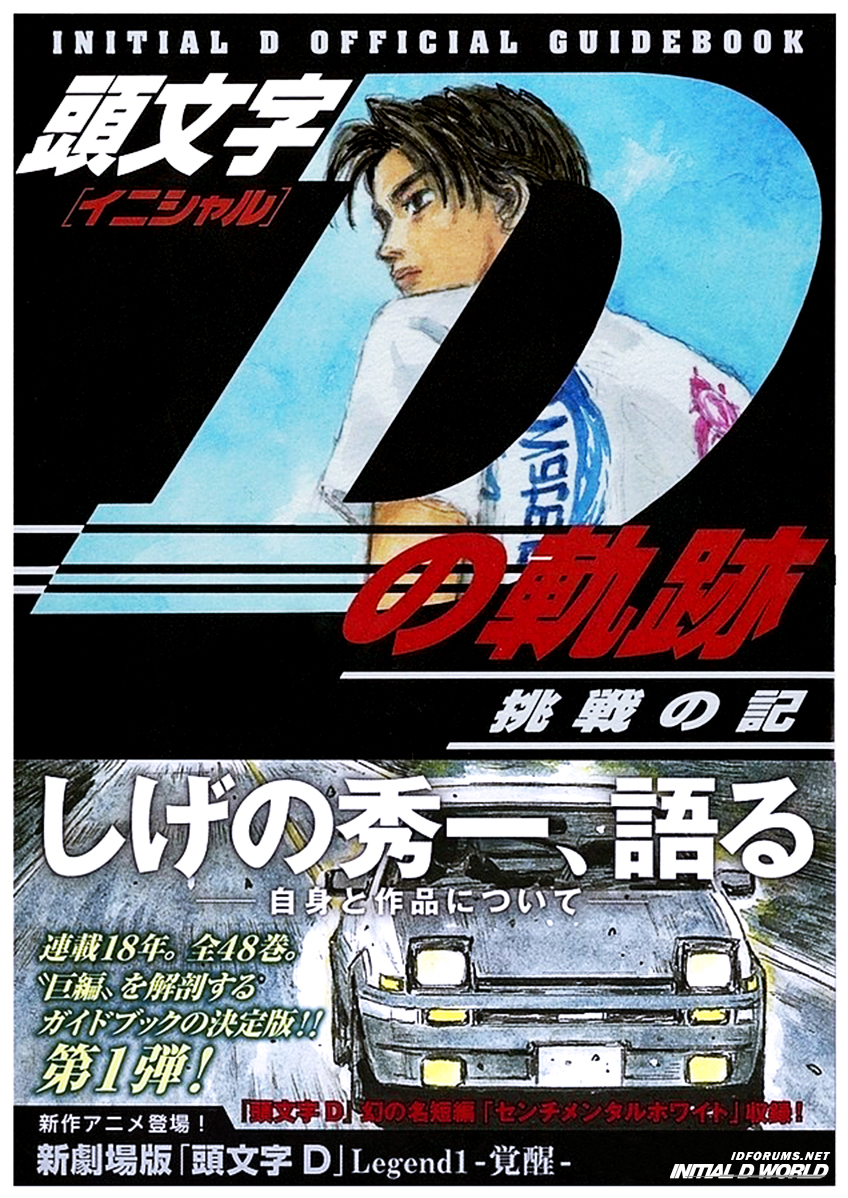 Image size reduced, original size: 848 x 1198.
Click here
to view the image in its original dimension.