Okay, ANOTHER MAJOR CHANGE.
I've just determined that my connection here is NOT shot to hell. I've confirmed this by tuning into the stream while on air with no skipping whatsoever. With that, it only means one thing.
I. AM. BACK!!!!!
That's right, I'm now back as a full-time DJ for the weekend!
Tommorrow night, I'll be playing the 2-disc "GROUND ZERO ~TOHO ROCK!! 2007" album by C-CLAYS.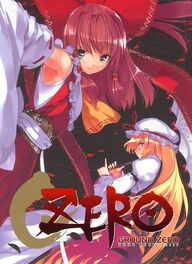 This is a collection of rock remixes of Touhou BGM from various doujin artists who produce remixes of Touhou BGM (including my favorite group, dobu usagi).
EDIT: Wow, that didn't turn out so well. I was skipping all over the damn place even though I made sure I wasn't. My connection seems to be all over the place.
This post has been edited by HashiriyaR32 on Sep 19 2008, 09:00 PM