Into the year and I realised that I've been doing a lot of updates on my current pc system build. Because of this, here are some pictures to show where my pc has gone, well, performance wise.
If one was aware in the recent purchase thread, I've bought several parts, and well, deviated away from what I had intended to buy in the first place.
Indeed, I went ahead and bought the X6 1100T, as well as an aftermarket cpu cooler, the Coolermaster Hyper TX-3. I could have gotten the Hyper 212+, but the casing size made it a very tight squeeze.
How the system was back then, and very messy as well.
From there, I went on buying more stuff, biggest key point would be a better casing, the Ikonik SOHO1. The Zalman 92mm fan was bolted to the cpu cooler, hence now it is a push-pull config. That Headway PSU was the biggest mistake of my life, especially when I was not aware about the 80+ efficiency thing on PSUs back then.
Much more sleek than the cheapy bling old casing
From there, I decided to change the monitor, reason being that it looked out of place for a square monitor... I bought myself an Acer G205HV
By then, I was starting to get into the overclocking side of things, and the cheapass PSU started to give me problems, shutting down every time I do something heavy to the CPU/GPU. Frustrations made me underclock and undervolt my system until I bought a new PSU. Around the same time, I decided to update myself and got an AM3+ mobo as well
PSU - Aerocool Strike-X 800W 80+ Silver Modular
Mobo - Gigabyte GA-970A-D3
How my system currently looks on the inside. Still messy, and yes, I can't turn the HDD around. For some reason it can only lock in place as it is. And yes, I ditched the Creative Sound Card altogether.
As of 1st Jan 2012
And my overclocked GTX550Ti specs based on GPU-Z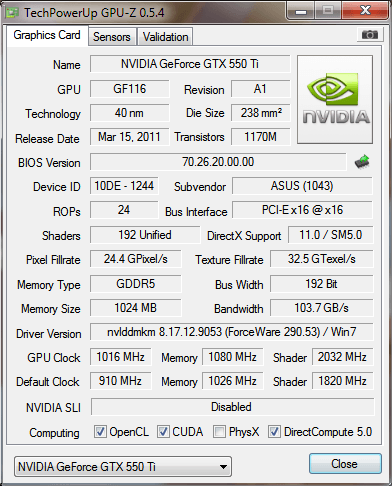 And since now I'm being more realistic in getting stuff, (Yeah, I'm such a daydreamer when it comes to planning on buying stuff at times.). Here's the low-down on the further updates to my system, based on the monthly allowance I've been getting from the army.
January - Ducky DK9008 Cherry MX Brown Keyboard
February till April - Palit GTX580 3GB
My side done, now about my dad's HTPC side, there has been progress. Since he wanted to reuse the parts I have in storage, I've pretty much scratched my planned parts for my dad. And now since he's fully forking out the money for the parts, I'm aiming to spend as little as possible.
Parts that I have so far...
Processor - AMD Athlon II X4-640
HDD - Seagate Barracuda 320GB (IDE)
Mobo - Biostar A780L3G
CPU Cooler - Stock AMD Phenom II cooler
Casing - That red, bling, cheapass casing I had.
Purchasing ram, OS, and optical drive are pretty much handled by my dad. The only things that he needed help is choosing the right PSU, and GPU. Take note, he still insists on a HDMI output. And as far as I know, here's my suggestions as of now...
PSU - Superflower Amazon 550W 80+ Bronze - SGD$78 -
http://www.super-flower.com.tw/products_de...0&ID=11&lang=en
GPU - Powercolor HD6670 2GB DDR3 - SGD$129 -
http://www.powercolor.com/global/products_...ures.asp?id=370
What are your opinions on this, and could this be improved?
This post has been edited by outlaw-2 on Jan 1 2012, 01:00 AM