After a whole month of testing and implementing this new feature, I am happy to give you Multi-Quote. This is probably one of the most wanted features through the years. It took so long to implement this feature due to two reasons: 1.) The IPB 1.3 code was not written with multiple quotes in mind. Short of rewriting a good portion of the post parser, implementing based on the original codes would be nearly impossible; 2.) To implement such feature in this forum software, one must think outside of the box. The post parsing must be done "on-the-fly" so to speak and not server-side. Javascript is the best candidate when parsing elements in the browser. However, my knowledge in javascript was mediocre at best at the time.
Up until a little more than a month ago, I was still clueless in implementing this feature. Then I came across
SWR
and noticed the way they implemented Multi-Quote can be useful to my own implementation. The original javascript codes was over 10KB in size, I was successful in reducing
it
to a mere 2.8KB. The main reason why it took me so long to implement is because I wanted an unique way to multi-quote. You'll notice our Multi-Quote is different than the way SWR does it. The main idea is the same: that is grabbing the text in the post, parse them "on-the-fly" and insert the parsed text into the Fast Reply box. However, I added a small twist to our Multi-Quote as shown below;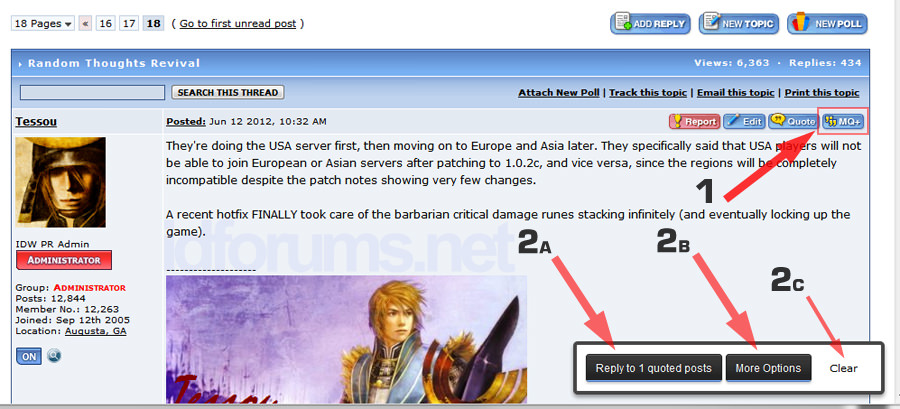 Image size reduced, original size: 900 x 409.
Click here
to view the image in its original dimension.
Upon clicking on the MQ+ button, a float box will pop up at the bottom right corner. You are presented with three options: 1.) Reply to X quoted posts; 2.) More Options; and 3.) Clear. Clicking on Reply to quoted posts will take you directly to the bottom of the thread with all the posts you quoted. Clicking on More Options will take you directly to the normal Add Reply screen with all the post options and Clear will clear all the text in the buffer.
There is a few things to note here. Once you start typing in the Fast Reply box, the MultiQuote button will cease to function. This is to prevent accidental removal of the content you just typed. I highly recommend clicking on all the posts that you want to quote first before typing. With that said, please let me know if you have any questions regarding this new feature.
P.S. - It's going to take some time to get used to an extra button being there. The normal Quote button is now at where the Edit button used to be.

This post has been edited by Perry on Jun 17 2012, 02:11 AM