Oh, but that's the fun part! They see this ratty, sun-damaged, rice-bumpered, dented-up, fire damaged, gasser-staced, purple-tinted CB9 coming up alongside them and their first reaction they have is,
I gotta stay ahead of this piece of shit!
That's when I drop down from 5th to 4th, 3rd, or 2nd depending on the road and go,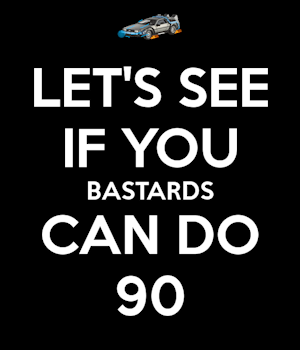 I do let off around 90 or so in the waggy if they're persistent though because, well, frankly, I become aware of the shape my outer tie rod ends are in and my own mortality and go 'eh... not a good day to die.'
Of course, that only happens on local, county, or state roads and US highways where the speed limit is 55 or lower. On the interstate,
everybody
is passing me because I'm in the right lane doing the legal limit of 65. 62 if it's my E12 because the gearing is ridiculous and the little engine that could starts sucking down 87 octane above 3,000 RPM.

-
Biggest pet peeves? Hmm...
*Texting at a stop light, not paying attention to the signal
*Pulling out into the roadway without looking
*Improperly negotiating a turn (taking 2 lanes) onto a multi-lane highway, either resulting in nearly side-bashing me if I'm turning right and they're turning left, -or- trying to pass me on the right after negotiating a left turn as I'm trying to merge
into
the middle or right lane to get out of their way since I accelerate like a geezer
*Changing lanes without signaling, QUINTUPLEY if that's paired with not checking blind spot and driving right into my path of travel
*Randomly speeding up and slowing down outside of changing speed restrictions, road or traffic conditions
*Accelerating briskly to bunched up traffic then braking hard at the last moment
.
.
.
And the biggest peeve of all?
I got my ROLLING BIG POWAH XD EDITION CHROMED OUT 44" MUD TIRES

CUMMIN

DURA

STROKE

and I ROLL COAL LIKE A GENERAL ELECTRIC LOCOMOTIVE!!!
This post has been edited by Master0fMadness on Aug 17 2016, 04:35 PM