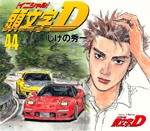 Initial D Manga Volume 44 was just released in Japan on January 6th, 2012. This entire volume is centered around the battle between Project D's Keisuke (FD3S) and Sidewinder's Go Hojo (NSX-S Zero) and the enjoyment of racing.

To buy the latest volume in Japanese, please visit this link:
YesAsia

If you want to get a preview of the new volume, we also have the scans available.
[しげの秀一] 頭文字D 第44巻 (64.55MB)
(Right Click And Save As)