Just starting this page so that people could dump their photos they've taken trackside. I figured we needed one since not all of us are drivers.
I was part of the pit crew for my friend's Acura during the FF battle from Super Street sponsored by General Tire this weekend. We got to watch some FR battle from Import Tuner/Continental Tire and some HPDE as well. Also there was some FRS/86 thing going down too.
Got there in the early morning
This was our car
Some of the other combatants
Some FRS/86 action
Some drag racing later in the day
Some JDM action... and no Floh to admonish us for admiring it. It's a damn shame. I was almost looking forward to it. Oh well. Time to move on with life.
interesting to note- our safety car for this event was a Civic Type R
This R32 showed up. Not quite sure what hood that is. Between the white wheels on black car+ strange vented hood, It's not really my cup of tea but kudos that he showed up at all.
During the course of the day we had our share of fun- our driver, Gary was unaware of the embellishment on the back of his vehicle when I took this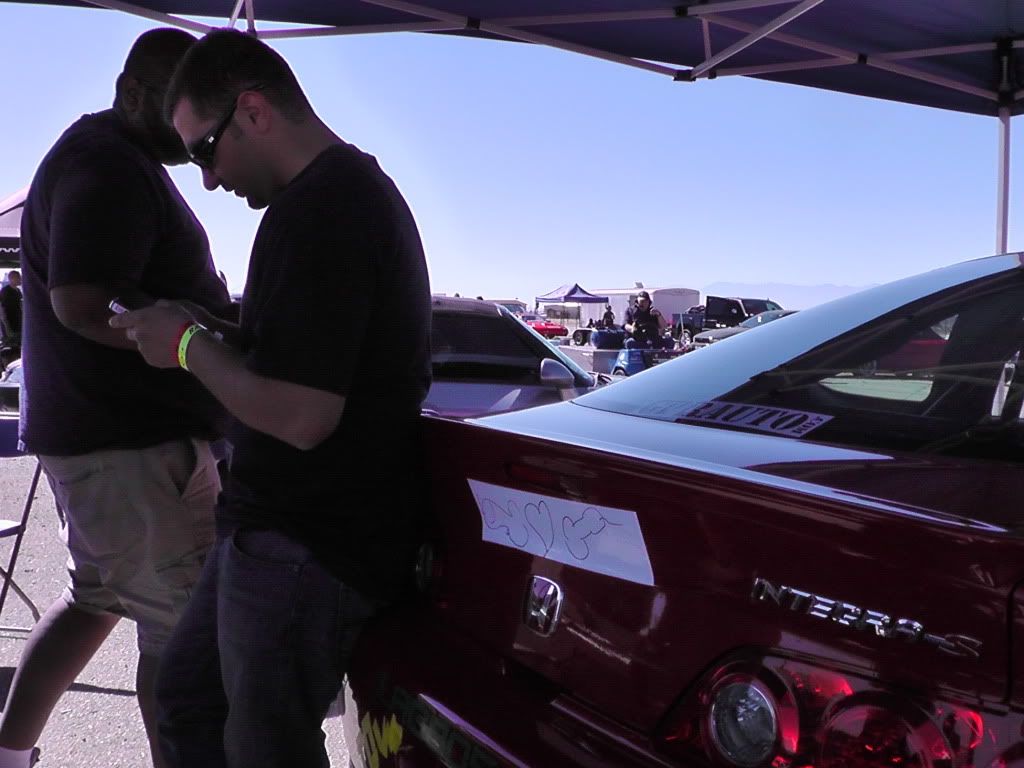 Image size reduced, original size: 1024 x 768.
Click here
to view the image in its original dimension.
Wind at 10mph my ass; stupid weather report. It was funny how unprepared for this event other people were. Some of their tents had to be tethered to walls with bungee cord and were flying away. Others didn't even have tents or complete tool kits. I know one car owner who had hired a driver where all they did in the early morning was yell at each other because the owner failed to bring proper tools and or properly prep his car. His car also overheated in the 2nd session and was shut down while it was overheated

. It managed to make it out the next 2 sessions but we were amazed it didn't blow up. Among a plethora of other things, we had a tent; sandbags; 2 fully stocked tool kits; an air compressor; wifi; a camera pod; and a grill for hot dogs and burgers

. I'll leave you with this image of my hair going everywhere from the NOT 10 mph wind. Also I'll try to fix some of these images later. Right now some are saying they're not showing up from errors.
Image size reduced, original size: 1024 x 576.
Click here
to view the image in its original dimension.
This post has been edited by JKaiba on Jun 25 2012, 10:01 AM