We are integrating a new system with the forums. It's called IBS 3.0.2
(Invision Board Store)
. The store enables members buy items with points they earn by playing games; answering questions in quizzes; posting in threads ... etc. It's a quite new concept to most of the members here, so I thought I'd write up a tutorial about this new store system.
Accessing The Store

The Bank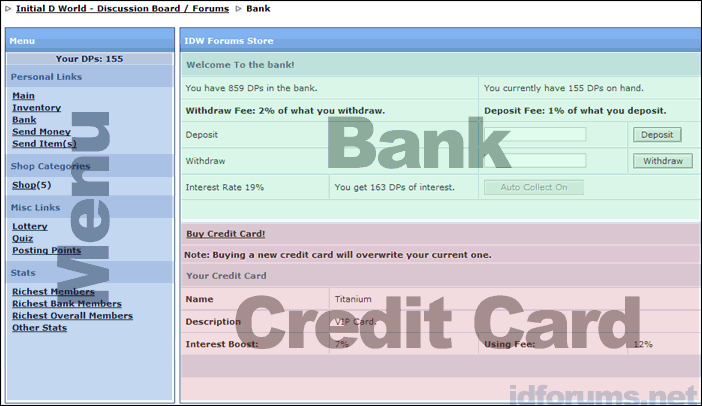 The store's currentcy is
DP
(DPoint)
. The best and safest place to put your DPs is the bank. You earn interest by putting money in bank. Here's the catch, everytime you deposit DPs into the bank, they charge you 1% of what you are putting in.
(i.e. - you are putting in 100 DPs, they'll charge you 1 DP.)
Likewise, when you withdraw DPs from the bank, they'll charge you 2% of what you are withdrawing.
(i.e. - you are withdrawing 100 DPs, they'll charge you 2 DPs.)
Interest rate is 2% by default and it pays you every 24 hours. However, you must collect the interests manually by clicking the Collect The Interest button. If you don't, you won't get any interests and it'll just stay the same. There are two ways to boost your interest rate. 1.) Buy the Increase Interest Rate item. 2.) Get a credit card.
Credit Card

As of now, there are three (3) type of credit card you can buy. Interest Boost and the Price should be self-explanatory. The Using Fee is the fee it'll cost you when you are buying items with credit card in percentage.
(i.e. - you are buying an item which cost 100 DPs with a Basic Standard Card, the bank will then charge you 6% of the item you are buying. In other word, 6 DPs.)
The Shop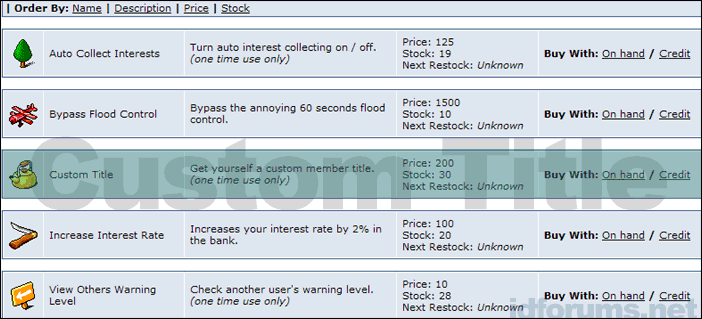 With the DPs you earned, you can buy stuff at the shop. Let's analyze the situation where you are going to buy a custom title. So the price for a custom title is 200 DPs, and the stock is 30. The stock value just means the number of that item is still available before it runs out. When it does run out, it'll re-stock by itself. Re-stocking period is 24 hours. Click the
On hand
link if you are buying the item with cash. If you are buying the item with credit card, then click the
Credit
link.
The Lottery System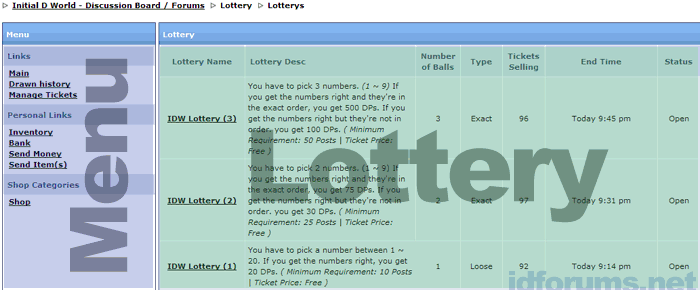 As of now, the only way to earn DPs is by playing lottery.
There are three (3) types of lottery.
1.)
One Ball
[1 ~ 20]
;
2.)
Two Balls
[1 ~ 9]
; and
3.)
Three Balls
[1 ~ 9]
. All these three lottery draw once every 24 hours. There are only 100 tickets for each lottery. If they all sold out, you'll have to wait for the next lottery. All tickets are free, you can play even if you have no DPs. However the only requirement is post count. You'll need certain number of post count before playing a lottery.
(i.e. - to play the Two Balls lottery, you'll need 25 post count.)
The draw time, number of remaining tickets and the status of the lottery are all listed in that page. To buy a ticket for a lottery, simply click on the name of the lottery and then click on Buy Ticket. You can also check the probabilities of winning by clicking on the Check Winnings link. When you win, you'll receive a PM from the Lottery.
The Poker System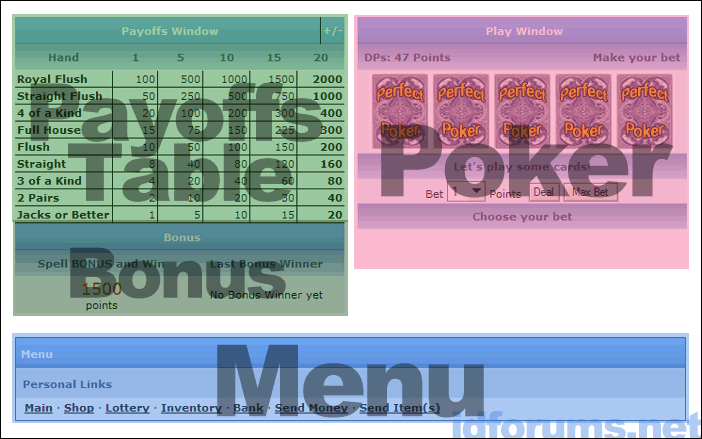 Playing Poker is another way to get DPs.
Payoffs Table
- This is the table for payoff.
(i.e. - If you have a Royal Flush, the system will pay you 100x of what you bet. If you bet 1 DP, you'll get 100 DPs; if you bet 5 DPs, you'll get 500 DPs ... and so on.)
Bonus
- You'll win 1500 DPs if you spell BONUS.
(read below for more info.)
On the right side, it's the play window for poker.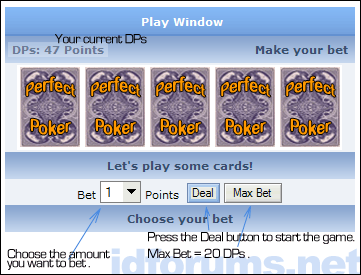 Here's how you play it. We have 5 cards facing down as default. The Play Window shows the current amount of DPs you have
on hand
. To play poker, you must make your bet first, therefore you must have money on hand. There are five different amount of bet you can make.
(1, 5, 10, 15, and 20 DPs and Max Bet = 20 DPs.)
After you make your bet, click on the Deal button.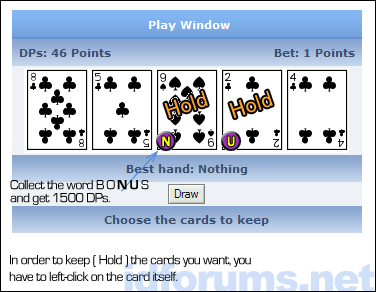 You get 5 cards. To keep the cards you want, simply left-click on the card itself. To win the BONUS jackpot, you have to spell out the BONUS with your card.
(See the little N and U letter on the bottom left corner of the card ?)
The probability to getting the BONUS is 1 out of 106,777. Also,
the BONUS jackpot accumulate any DPs you lose to it.
(So it increases !!)
After you have decided which card to keep (Hold), proceed to click on the Draw button and finish the game.
The Arcade System

Arcade is another great way to earn DPs. It features lots of classic games like Pac Man, Asteroids, Tetris ... etc. Have fun while earning DPs. =)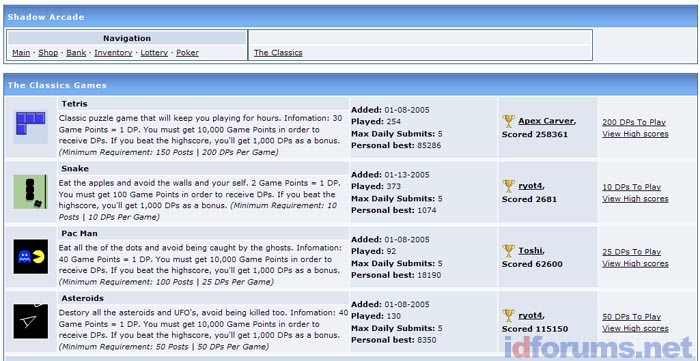 Make sure you have at least 10 posts and 10 DPs on hand or you won't see any of these games. To see all the games, you need 150 Posts and 200 DPs on hand.
The rest are self-explanatory. And yes, I'll be adding more items in the Shop and more ways of earning DPs will be added soon as well.
Please post any questions regarding this new store system in the designated
pinned thread
in Community Forums. Thanks for supporting IDW.
This post has been edited by Perry on Feb 12 2005, 02:25 AM