It has been a year and half since the last progress report. It is only appropriate to have a midyear report to keep all of you informed. As we all know, traffic and activities on the forums continued to drop since the last progress report. With posts per day dropping below 100 posts since early 2011, it might be hard for some to stick around. There are just not enough going on to keep their interests.
I believe I am speaking for the majority when I say we are all waiting for the announcement of Initial D Fifth Stage. Since the last progress report in 2010, we are still nowhere near a confirmation in 2011. It is now over five years since the last episode of Fourth Stage aired in February 2006. At the current rate, we may not see Fifth Stage until at least 2013 and that's being conservative. The question is, can we stay afloat for another year without major Initial D announcements? Or are we going to sink without putting up a fight? Either way, I'll let the statistics do the talk.
Without further ado, I present you some of these traffic statistics.
(Courtesy of Google Analytics)
Absolute Unique Visitors Overview (Daily)
(Absolute Unique Visitor is defined as one unique IP per 24 hours cycle.)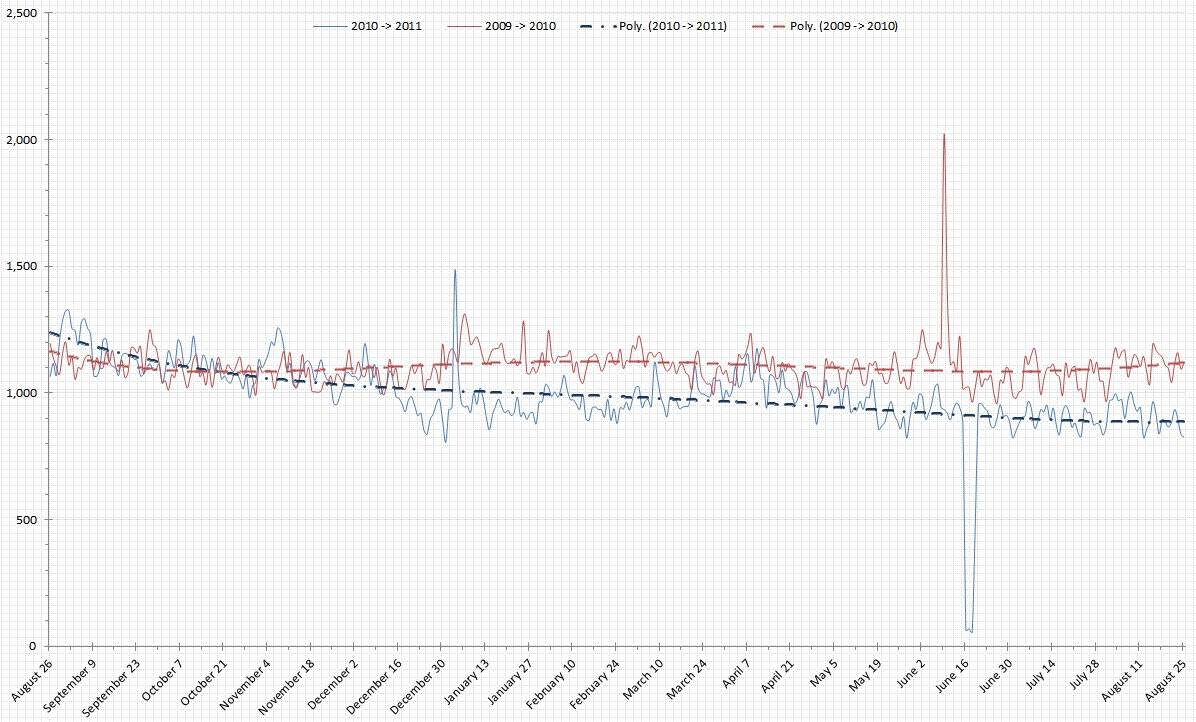 Image size reduced, original size: 1196 x 722.
Click here
to view the image in its original dimension.
I added trend lines to further illustrate the general trend. As you can see, 2010 (red line) was mostly flat and stayed around ~1100 unique visitors per day. 2011, however, started its decline and hovered around ~900 unique visitors per day. There was a rebound from February to April '11 that we saw as many as 1100 unique visitors again. As May rolled around, we dropped below the critical 1000 uniques per day again. The trend from here on seems to be flat-lining at 900. It is hard to say if we can keep this level of traffic as we go towards the end of the year.
[ Jun. 2006 ~ Aug. 2011 Overview ]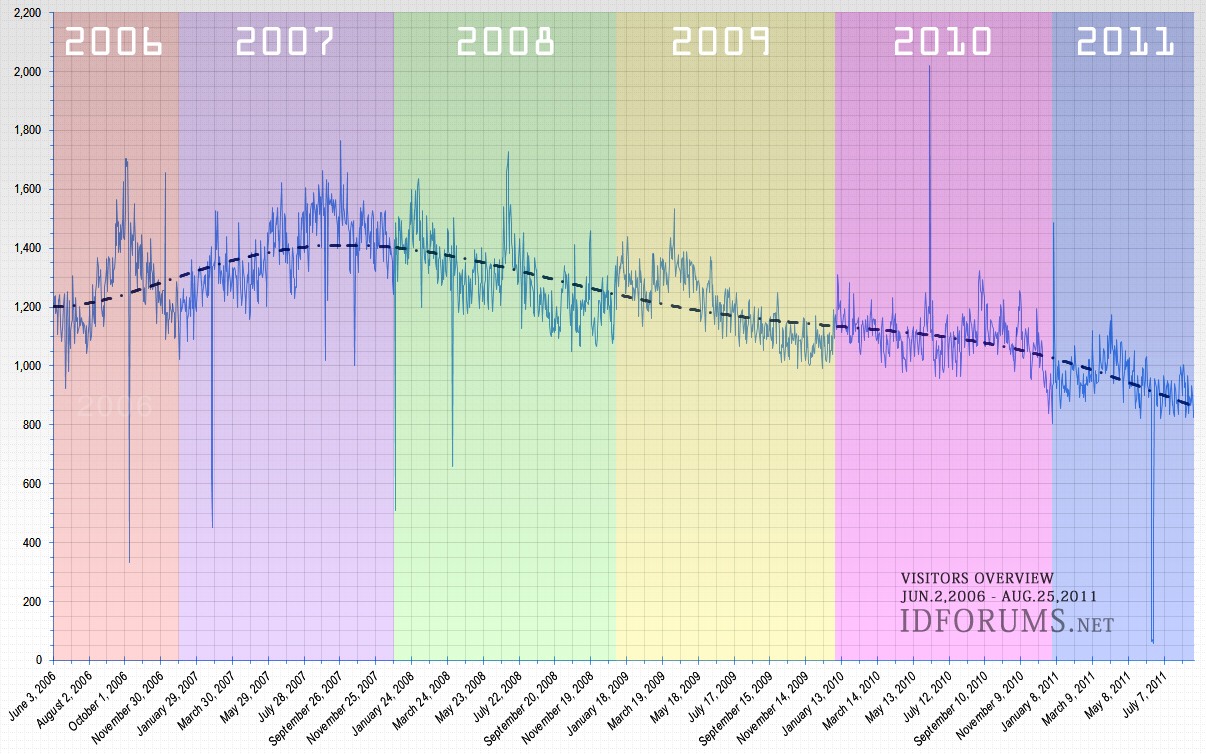 Image size reduced, original size: 1206 x 754.
Click here
to view the image in its original dimension.
We peaked 1600 unique visitors per day in the summer of 2007. Since then, the incoming activities displayed a slow downward trend at the rate of 150 uniques per day each year. To break this downtrend pattern, we must still have more than 800 unique visitors by 2012. We shall see soon enough.
Overall Comparisons between 2010 and 2011
[ Aug.2010 ~ Aug.2011 ]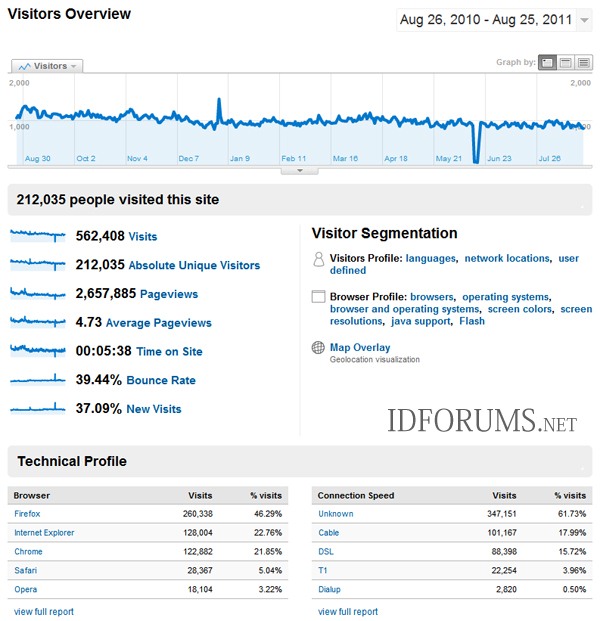 [ Aug.2009 ~ Aug.2010 ]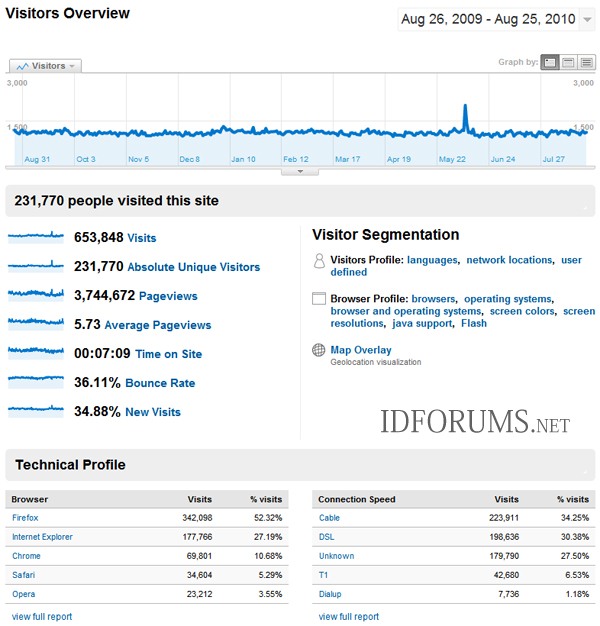 Last but not least, we'll go over some statistics gathered by the board itself over the year.
From 08/26/2010 - 08/25/2011
(For comparison purpose, 08/26/2009 - 08/25/2010)
People registered: 1,418 (

-33.5%

from 2,133)
Topics made: 1,321 (

-33.4%

from 1,985)
Posts made: 43,641 (

-37.8%

from 70,167)
Private messages sent: 3,108 (

-25.0%

from 4,146)
..and the following are the topic views for the top 20 forum sections.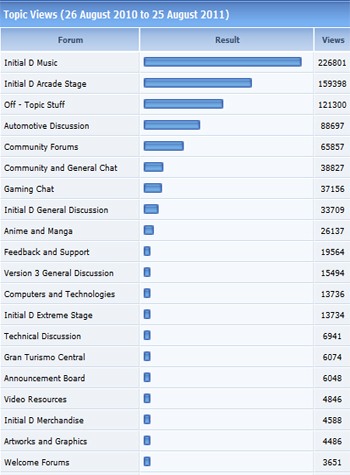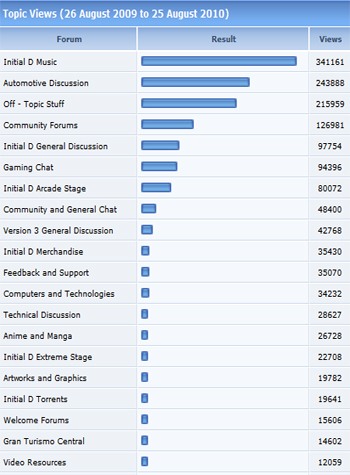 This concludes the midyear report for 2010-2011, please leave your comments and concerns in the thread
here
.
Relevant Link(s):
IDW Progress Report 2009
This post has been edited by Perry on Aug 27 2011, 09:38 PM