It has been a long time since I posted up any traffic statistics for IDW. I thought it would be the right time to have a semi-conclusive report on the forums' progress in terms of incoming traffic. As we all know and witness with our own eyes, the forums aren't as lively and active compare to two or three years ago.
IDW is mainly based on Initial D anime and manga, so when Fourth Stage ended in 2006, the decline in traffic was predicted beforehand and generally accepted as the inevitable. Through the years, due to various small release from Initial D, such as Extra Stage II, Battle Stage II, various Arcade Stage releases.. etc. help kept this board alive for as long as it could.
After everything settles down, the footsteps of declined activities accelerated. We saw as little as barely over 100 posts per day in activity for some months consistently. The cause of this decline in activity can be linked to the decline in new members. A community without the constant flow of new users just won't stay active. The reason is simple, if all we have is the same group of people talking, eventually it gets to the point when there is nothing to talk about. Without any new Initial D releases, Initial D fans are not motivated enough to join the forums. After all, this board is about Initial D.
Looking at the traffic statistics, I noticed the amount of users browsing the board is still quite substantial. Believe it or not, people do still check the board and browse it, but they do not participate in active discussion. It may well be the fact that nothing grabs their attention enough for them to register and start posting. Whatever the case, the forums are still visited heavily on a daily basis, just not as heavily as before. One thing positive that comes out of this report is, this board has not been forgotten by Initial D fans.
Without further ado, I present you some of these traffic statistics.
(Courtesy of Google Analytics)
Absolute Unique Visitors Overview (Daily)
(Absolute Unique Visitor is defined as one unique IP per 24 hours cycle.)
[ Feb.2009 ~ Feb.2010 ]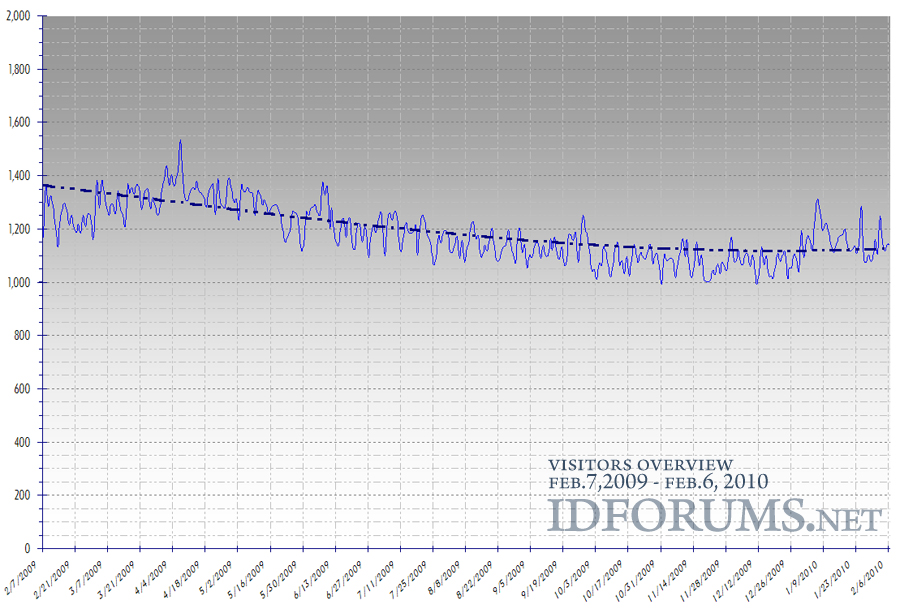 [ Feb.2008 ~ Feb.2009 ]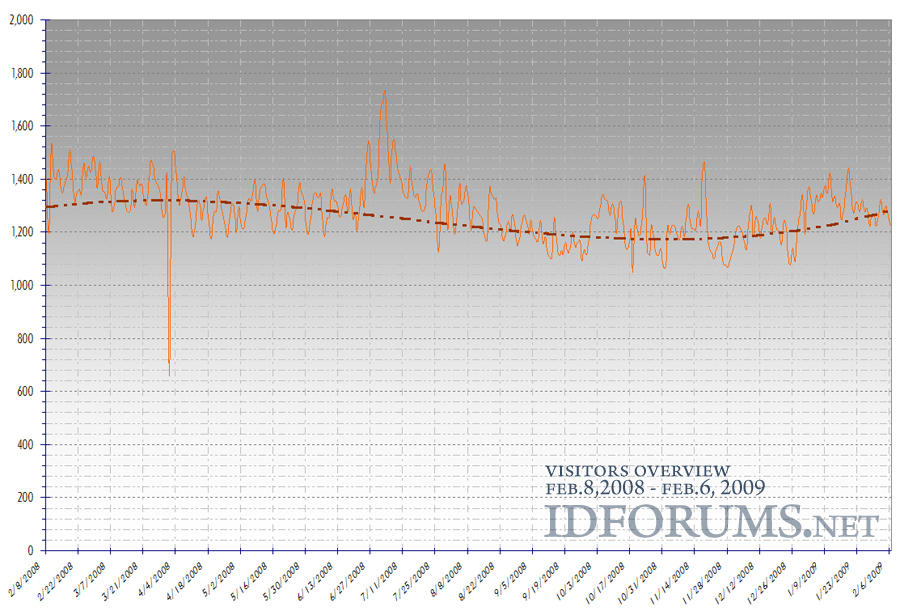 As you can see, 2009 displayed a downward trend from April to December. 2008 in contrast, did not do that much better. 2008's average was ~1250 visitors per day whereas 2009's average was dropped slightly to ~1200 visitors per day. Right up 'til the end of 2009, we are seeing some rebounds. It is still too early to say whether or not this trend will continue, but it sure is inspiring to know we are flat-lining at the very bottom, at least that's what the statistics tell us so far.

Here we superimpose the two graphs together to have a better understanding of how we did in 2009. As I said above, 2008 did not do much better. And it is not overly optimistic to state that the decline rate has slowed down through 2009.
[ Jun. 2006 ~ Feb. 2010 Overview ]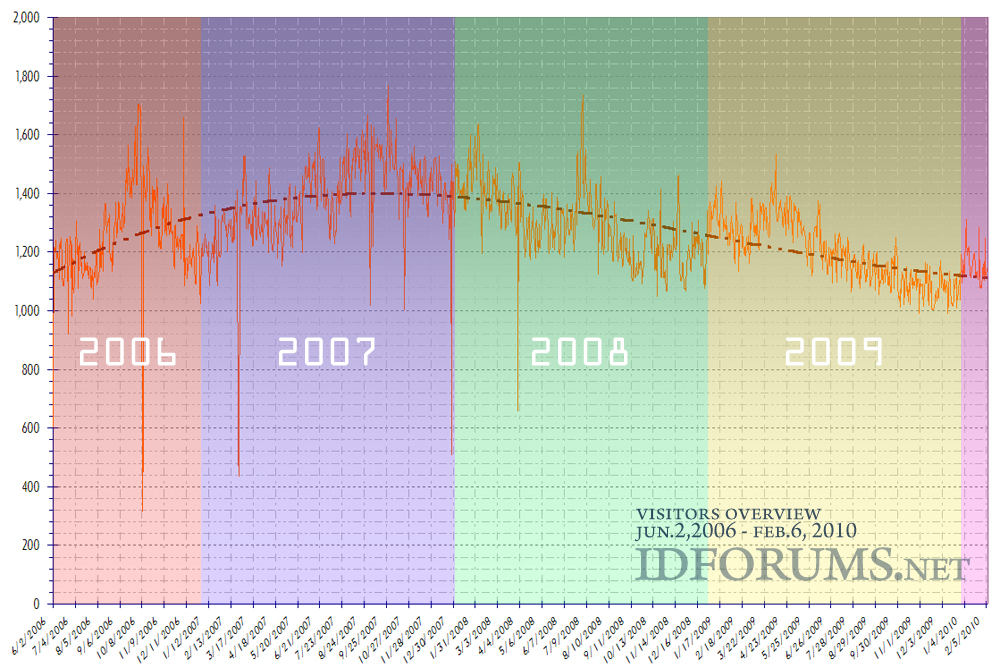 It is evident that 2007 was the prime year for IDW. It had reached as high as 1550 visitors per day on average in the second half of 2007. It was also the only summer (Jul.1 ~ Aug.30) that displayed an upward trend.
Overall Comparisons between 2008 and 2009
[ Feb.2009 ~ Feb.2010 ]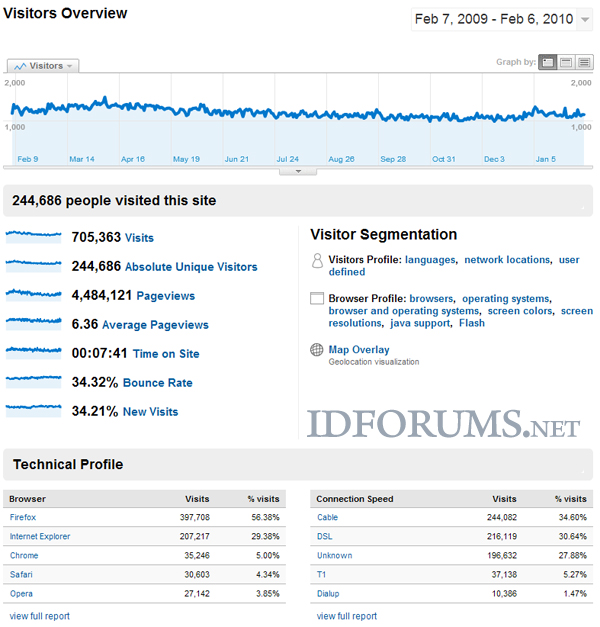 [ Feb.2008 ~ Feb.2009 ]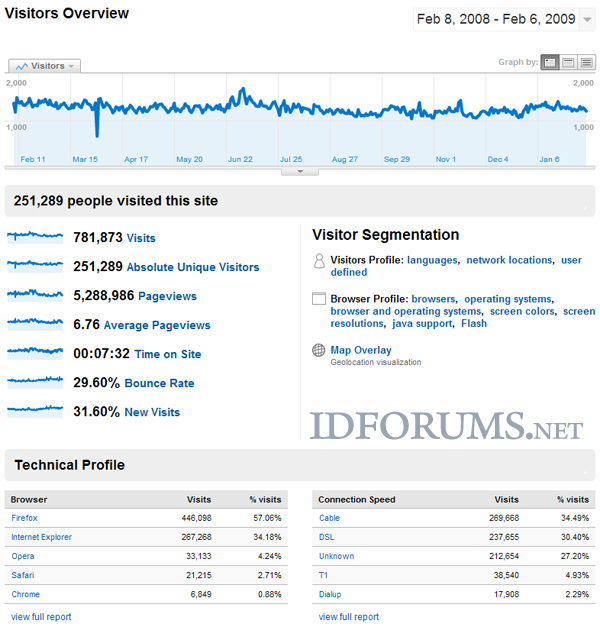 Last but not least, we'll go over some statistics gathered by the board itself over the year.
From 02/07/2009 - 02/06/2010
(For comparison purpose, 02/08/2008 - 02/07/2009)
People registered: 2,705 (

+7.9%

from 2,508)
Topics made: 2,636 (

-15.0%

from 3,101)
Posts made: 90,127 (

-18.1%

from 110,090)
Private messages sent: 6,317 (

+40.0%

from 4,513)
..and the following are the topic views for the top 20 forum sections.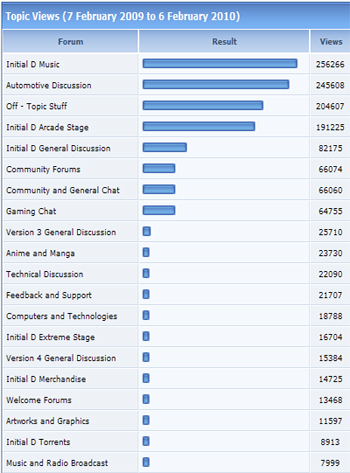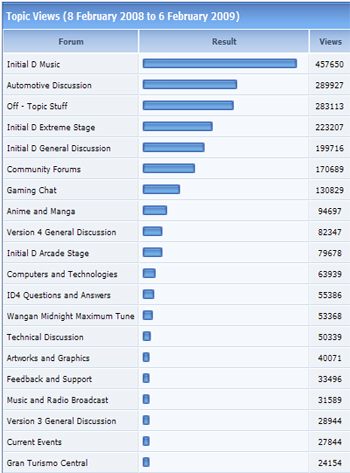 That concludes the progress report for 2009, please leave your comments and concerns in the thread here:
http://idforums.net/index.php?showtopic=40310