As some of you may have noticed, we've been test-running a wiki that is going to serve as our knowledge and resource central. First and foremost, let me take the chance to thank Insidious for his hard work and relentless effort working on the wiki this past month.
A wikipedia of our own had been suggested numerous times before, both on the forums and in the chat room. The idea never really took flight until Insidious showed up one day in March. After a lengthy discussion on the feasibility of such a project, Insidious confidently took on the leading role. The project is tentatively named
Project W
and will probably stay with that name in the foreseeable future. The project's main goal is to share any Initial D related knowledges and resources with ease. With the scarcity of Initial D sites on the net, a wikipedia project dedicated solely to Initial D will be a great news to Initial D fans world wide.
Currently, the wiki can only be edited by IDW members. By registering on the forums, you gain access to both the forums and the wiki. If you just want to browse the wiki, you will not need an account, however. We strongly encourage everyone to contribute to this project, because we believe no contributions are too small. To access the wiki, please follow the steps below: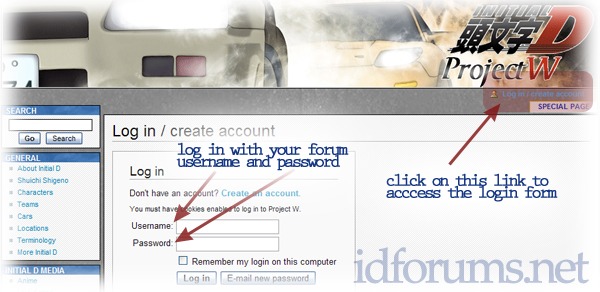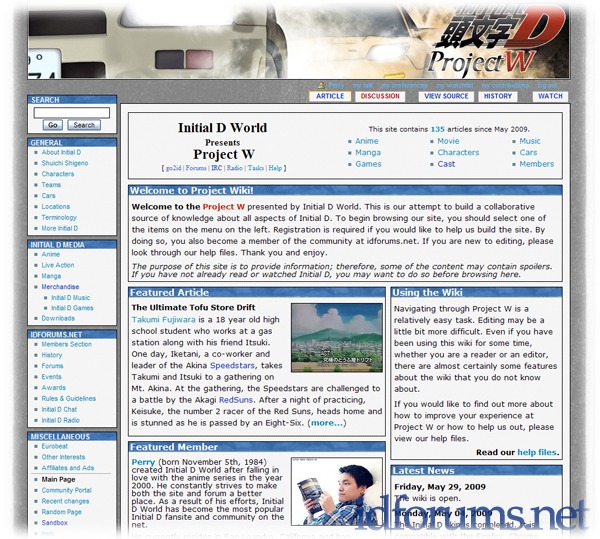 In closing, if you have any questions regarding the wiki, please contact Insidious or I for further assistance. There is currently no plan for moderation on the wiki, so please be a responsible user. Your maturity in participating in the project will be much appreciated.