Animax announced on March 1st that Initial D Final Stage will be available starting on
May 16th, 2014
on its new subscription VOD (Video On Demand) service which allows subscribers to watch all the latest anime series. Initial D Final Stage will start right after where Fifth Stage left off. There are a
total of four episodes
that makes up this mini stage.
Opening and Ending theme had also been announced. To our surprise, they are using two of m.o.v.e's unreleased tracks. The OP will be
Outsoar The Rainbow
and the ED will be
Days
. The OP also happens to be the same theme song they use for Initial D Arcade Stage 8 Infinity. For those of you that follows the forums, you'll know that m.o.v.e disbanded as of March 2013. Initial D just isn't the same without m.o.v.e. Maybe the producer also thinks the same way, hence the songs choice.
Final Stage Airdate Schedule:
(Subject to change with notifications)
(#01) Episode 1 - 2: Friday May 16th, 2014
(#02) Episode 3 - 4: Sunday June 22nd, 2014
(Note: Episodes will be available on Animax PLUS for ¥864 [$8.40 USD] for each two episodes, free if you have Animax on SkyPerfect TV.)
Final Stage Gallery: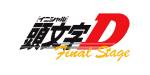 avex announced on November 6th, 2013 in a flyer found inside the Initial D Manga Vol.48, that
Initial D Final Stage
will be released in
Spring 2014
. Initial D Final Stage is a mini anime series that takes place right after the end of Fifth Stage. The mini series will show the long-awaited final fierce downhill battle between Takumi's 86 and Shinji's 86.
INITIAL D FINAL STAGE
Trailer:
【NEW】頭文字D Initial D Final Stage CM
Official Website:
http://www.animax.co.jp/special/initial-d
Available on Animax PLUS
2014.05.16Official sources / affiliated websites:
» 頭文字[イニシャル]D avex |
http://mv.avex.jp/initial/initial.html
» 新劇場版「頭文字D」公式サイト |
http://initiald-movie.com
» Animax Plus |
http://plus.animax.co.jp
» M.O.V.E Official Website |
http://electropica.com
» ヤングマガジン 頭文字D Portal Site |
http://kc.kodansha.co.jp/SEP/02888/01/initiald_portal