Ryosuke Takahashi
From Project W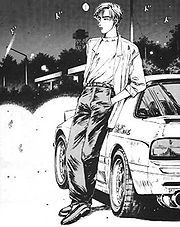 Ryosuke Takahashi (高橋 涼介 Takahashi Ryôsuke, "Ry")is one of the major characters of the Initial D series as mentor to Takumi. He once once the leader of the Akagi RedSuns, then director of Project. D. His car of choice is the FC.
Profile
Name- Takahashi Ryosuke
Sex- Male
Age- 23
Height- 183cm(6')
Weight- 64kg(141 lbs)
Car- 1990 Mazda Savanna Infini III RX-7 FC3S
Likes- His Beloved FC
Dislikes- Stupid big-breasted women
Special Technique- None, he specializes in everything
Biography
Ryosuke Takahashi is one of the most skilled and famous racers in the series. He was first seen as a competitive driver hailing from Mt. Akagi, where he got given the nickname "Akagi's White Comet". After a few years on the street racing circuit, he gathered a group of talented racers to found the Akagi RedSuns along with his younger brother, Keisuke (this coined the nickname "The Rotary Brothers", as both drive rotary RX-7s).
Not long after formation of the team, Ryosuke initiates his 'Fastest in Kanto project' to become the fastest in all the prefectures that make up the Kanto region. This plan was abandoned after the team's encounter with Takumi Fujiwara on Mt. Akina. Instead, Ryosuke forms a new team and recruits Takumi along side Keisuke as the two drivers. This reason was to help reinforce his fastest Racer theorum (which he had though since he started racing) as well as becoming the fastest team in Kanto.
Outside racing, Ryosuke attends a medical college in Gunma with aspirations to become a doctor. It was here he had a quarral over Rin Hojo, another student from Kanagawa over a girl named Kaori. She ended up committed suicide, which caused the recluse of Rin for years following.
Relationships
Keisuke Takahashi - brother

Takumi Fujiwara - protegé

Kyoichi Sudo - rival

Kaori - ex-Girlfriend (deceased)

Rin Hojo - Old rival

Appearances
As he is one of the main characters, he appears in most of the series.
Voice Actors
Anime (Japanese): Koyasu Takehito
Anime (English): Lex Lang
Live Action : Edison Chen

Related Links
Keisuke Takahashi
Takumi Fujiwara
Kyoichi Sudo

Rin Hojo