Night Kids
From Project W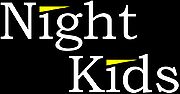 The Myogi Night kids are the premier racing team of Mount Myogi and had always tried to contest the RedSuns as the fastest in Gunma. This is the second team Takumi races against in Initial D.
Location
Prefecture- Gunma
Home Course- Mount Myogi
Members
Leader- Takeshi Nakazato

Drivers- Shingo Shoji
Appearances
First appeared as Nakazato challenged Takumi on Akina's downhill and appeared to many Gunma battles until they weren't heard of during the Project D story arc, despite some honourable mentions.

In Episode Nine, Nakazato is the second racer to challenge Takumi in First Stage. Many fans consider this the Drift vs. Grip battle, seeing as Nakazato's idea of grip driving is far superior than the "showy" and "flashy" drifting that Takumi uses. Ryosuke allows Keisuke to join him to not just watch the race, but to show how and why he lost to Takumi's AE86. As Nakazato gets the lead against Takumi, his poor and reckless emotions get to him, causing his tires to wear out at the end of the race, causing him to lose.
Notes
-Like most of the teams in Gunma, they have two team stickers, one from the manga and one from the anime.
Related Links