Kyoichi Sudo
From Project W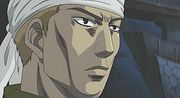 Kyoichi Sudo (須藤 京一 Sudo Kyoichi, "Kyle") is one of the main characters in the Initial D series as the arch enemy of Ryosuke Takahashi and fierce rival of Takumi Fujiwara. He is the leader of Team Emperor and his car of choice is a Lan-Evo III.
Profile
Kyoichi is the leader of Team Emperors, the all Lancer Evolution team based in Irohazaka, which is nearby to Nikko, Tochigi Prefecture.
His car is a black Mitsubishi Lancer Evolution III. It puts out 350hp and has been fitted with the WRC anti-lag/misfiring system.
Biography
Although is personality can be a bit rash at times, he appears to share the same attributes as his rival, Ryosuke; calm, smart and determined to win.
What makes him infamous is his conservative driving style. When he drives, he studies the technique of his opponent (like Ryosuke) but exploits their weaknesses and passes them only if he has a surefire chance to pass. When put up against an equally skilled opponent, he tunes his car up to the point he can't possibly lose. This is why he prefers 4WD cars over anything else.
Kyoichi was brought up by the Todo School, which explains his Motorsport derived technique, which allowed him to be competitive in Gymkhana events and the fastest in Irohazaka, which is known for its 360 degree hairpins.
Relationships
Ryosuke Takahashi (arch enemy)

Takumi Fujiwara (tough opponent)

Seiji Iwaki (junior)

Kai Kogashiwa (enemy local driver)

Appearances
His first came in 2nd stage when team Emperor wanted to conquer all of Gunma. He's also a main part of 3rd stage the movie, and makes a small cameo in 4th stage
Voice Actors
(Japanese) Masahiko Tanaka
(English) Richard Cansino/Chris Sabat
Related Links