Koichiro Iketani
From Project W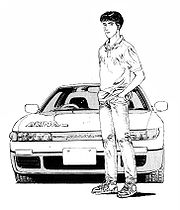 Koichiro Iketani (池谷 浩一郎 Iketani Kouichirou; Cole in the Tokyopop English adaptation) is the leader of the Akina SpeedStars and friend and workmate of Takumi and Itsuki. His car of choice is an S13 Silvia K's.
Profile
Name- Koichiro Iketani
Sex- Male
Age- 21, 22
Height- 175cm(5'9)
Weight- 60kg(132 lbs)
Car- Nissan Silvia K's S13
Likes- When someone says they like the S13
Dislikes-
Special Technique- E-brake cornering
Biography
Koichiro Iketani is the leader of the Akina SpeedStars and the third fastest racer on Mt. Akina (by a large margin behind Bunta and Takumi).
He works at the Esso Gas Station where he had befriended Takumi and Itsuki, and introduced them both to street racing. It is Iketani (and Itsuki) who introduces Takumi to different aspects of the racing world, including the practice of calling cars by their chassis code (e.g the 1983-1987 Toyota Corolla Levin/Sprinter Trueno is commonly known as AE86, or 'Eight-Six').
Iketani has good driving technique, enough to make him leader of the SpeedStars. At the start of the series, he thinks that the SpeedStars are the fastest on Akina until his boss, Yuichi, tells Iketani of a mysterious driver in a Eight-Six who was the fastest driver in his time, and that he suspects that the driver is the owner of the local tofu shop.
He apparently still lives with his parents.
Relationships
Takumi Fujiwara - Friend
Itsuki Takeuchi - Friend/Team mate
Kenji - Best friend/Team mate
Appearances
He appears in most of the series, more so in the first part as it talked about Takumi's rise to street racing. In the second half, with the rest of the SpeedStars, became more comic relief.
Voice Actors
Anime (Japanese): Kazuki Yao
Anime (English): Crispin Freeman / Eric Vale
Related Links