Big event coming up, guys and gals! The AE86 Festival 2013 with Initial D (第14回 AE86フェスティバル 2013 with 頭文字D) will be held in Okayama International Circuit (岡山国際サーキット) on Sunday 2013.9.22.
This will be the 14th AE86 Festival, the stage is set on the Okayama International Circuit. This year is exciting because it is officially sponsored by avex entertainment. They will have the Fujiwara Tofu Shop special edition AE86 running in the race. Special guest Shinichiro Miki (三木眞一郎), Takumi's voice actor, will be driving it (!!) Though, the entry fee is rather steep. For ¥34,000 Yen ($346 USD) you will be able to race among other AE86 racers. (Limited to 80 participants)
Of course, if you just want to watch, it's much cheaper. The ticket is priced at a reasonable ¥2,300 Yen ($23 USD) The festival will also feature the super popular Initial D manga original art exhibition. It is unfortunate we from the United States can't attend this event. But there will be many fans attending the event. We'll make sure to do a follow-up post next month.
| Details |
» Official Site:
http://okayama-international-circuit.jp/special/ae86-2013/
» Facebook Page:
http://facebook.com/okayama.international.circuit
» Address: 〒701-2612 岡山県美作市滝宮1210
» Tel: +81 868-74-3311
» Fax: +81 868-74-2600
| Entry Ticket |
»
http://www.okayama-international-circuit.j...2013/entry.html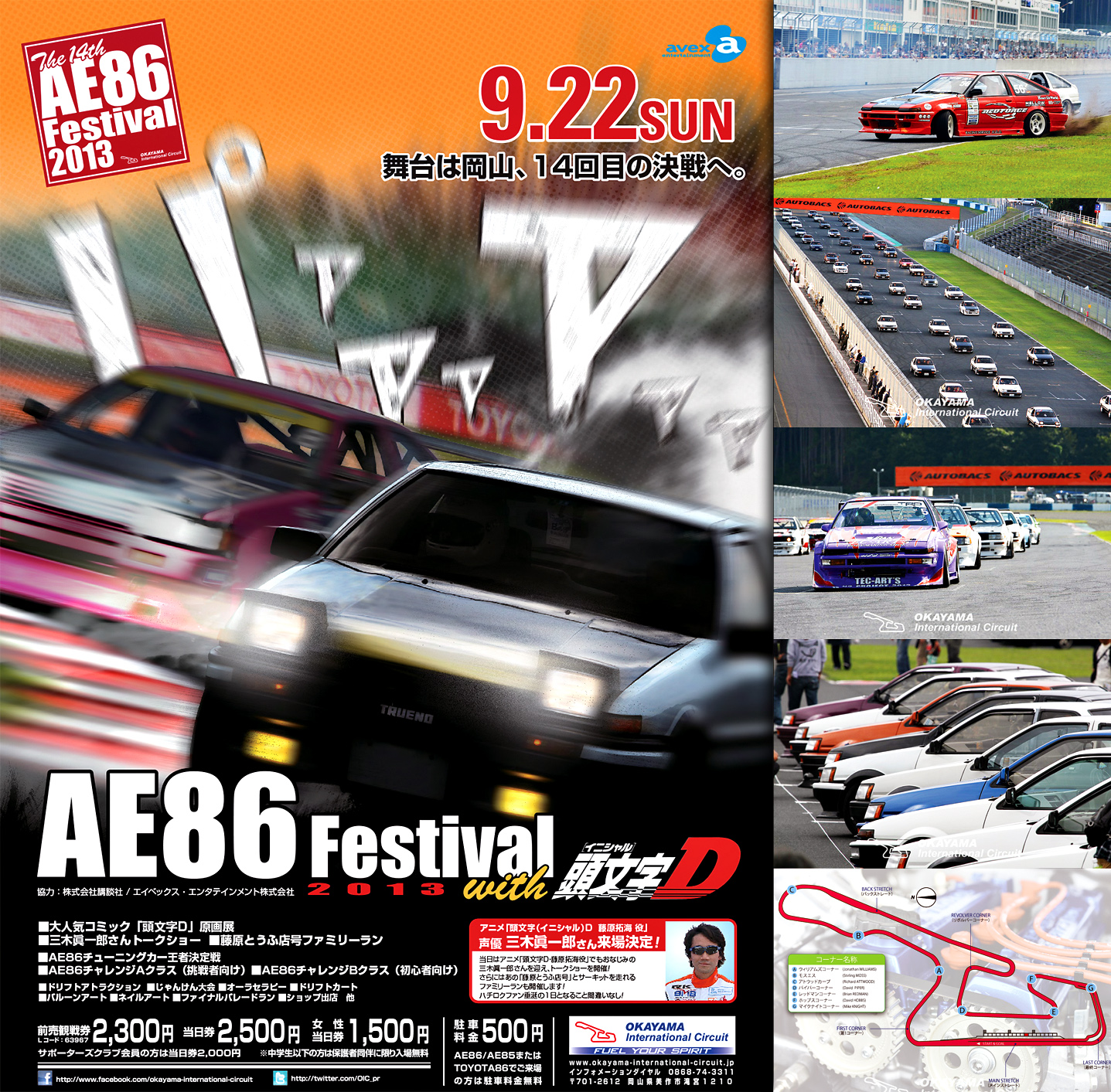 Image size reduced, original size: 1437 x 1413.
Click here
to view the image in its original dimension.