As most of you have probably noticed, there are Google ads on the forums now. Let me briefly explain what is really going on. As the board expands in size, we need all sort of fundings to keep the forums running smoothly. It've been four months since someone made a donation to the board. Yes, we do have sponsors. However, uncertainties always lie ahead of our path. To make sure the website has sufficient funds to keep on going, we implemented Google ads inside every forums section and topics.
According to the
Google's policies
,
we can not disclose the amount of revenue we are earning through this program. We can, however, explain how the system works. Every time you load a page and display the ads, it count as one impression. Google pays us a certain amount of revenue per thousand impressions.
(In general, the rate varies constantly from $0.01 to $4.00)
The Google ads uses a script to crawl through the page you are viewing. Thus, generating advertisements that are relevant to the content you are reading.
(For example, let say you are browsing in the Initial D General Discussion. The advertisement are usually anime related, sometimes even specifically Initial D related.)
Every time you click on one of those ads, it count as one click-through. The higher the click-through rate (CTR), the better our revenue is.
(In other words, visiting these Google sponsored links boost up the revenue.)
Please try not to block these Google ads. By just browsing the board, you are also supporting us as each page count as one impression.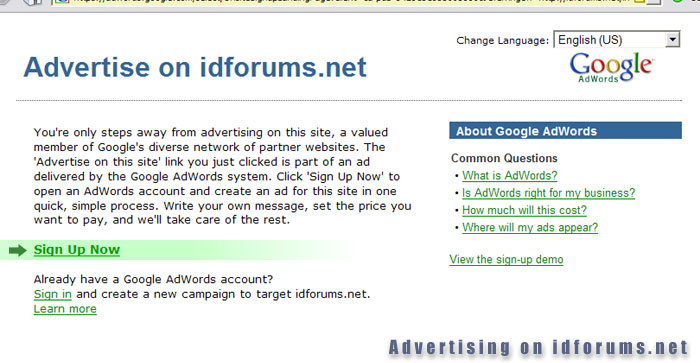 For the people who are interested in advertising on Initial D World, here is your perfect chance. Initial D World receives 3,000 unique visitors, with over 35,000 pages served each day. The ads are placed in an open area on top of every page that is clearly visible. To advertise, please follow the instructions after you click on Sign Up Now link
(As shown above.)
We look forward to working with you.
The reason I did not post this announcement earlier is because I had to test run it for about two weeks to see how it performs, in terms of the revenue it generate. With this, even when we are facing the worst case scenario
(i.e. - Sponsors dropping us or no donations for a long time,)
the board can still go on with the revenue generated by the ads. With these said, we hope the ads are not too much of a trouble or inconvenience. If you have any concern of these ads on the forums, please feel free to use the
pinned thread
in Community Forums to discuss this matter further.
------------------------
Minor Updates on the Forums:
• We will run a recount on the post count tomorrow. Depends on the situation, your post count will be lowered by certain amount due to your participation in closed threads that got moved to Recirculation Forum and got eventually deleted.
• The global announcement regarding the new signature rules along with those marks in your signature will be taken off by the 30th this month. Please change your signature to fit under the new regulations if you do not want to get warned by the Moderators. Thanks for your cooperation.
• New addition of Forum Guidelines will added shortly after the post recount. Please visit this section later for the any new updates.