Well! I have alot of model cars.
Alot
I only collect Formula 1 cars. So, i shall list them all. Hotwheels will be underlined, Minichamps will be in italics;
Fernando Alonso R23 (renault f1)
Fernando Alonso R23 First win
Jarno Trulli R23
Fernando Alonso R24
Jarno Trulli R24
Fernando Alonso R25
Fernando Alonso R25 Renault 100th win bahrain
Fernando Alonso R25 Drivers world Champion
Fernando Alonso R25 Renault Constructors world champion
Giancarlo Fisichella R25
Fernando Alonso R26
giancarlo Fisichella R26
Fernando Alonso R26 Double world champion
Fernando Alonso Mp4-21 showcar team editon (very rare, sells for £200+ given only at sponsor meetings)
Fernando Alonso Mp4-22
Fernando Alonso R29 norev
Fernando Alonso R29 race specification minichampsFelipe Massa C25 Sauber 2005 showcar, 1104pcs worldwide
Felipe Massa F248
Felipe Massa F2008
Kimi Raikkonen MP4-21
Kimi Raikkonen F2007 cherry red with soft tyres
Kimi Raikkonen f2008 Cherry red
Garry Paffet MP4-20 orange test car
Juan Pablo montoya mp4-20 race car
Juan Pablo Montoya Mp4-21 orange test car, limited to 1008 pcs worldwide
Pedro De La Rosa mp4-21 hungarian gp 2nd place, limited to 1018 pcs worldwide
Lewis Hamilton Mp4-21 silverstone test first roll out 3333pcs worldwide
Lewis Hamilton Mp4-22 canadian GP first win 7777pcs worldwide
Heikki Kovalainen Mp4-23 team edition
Jenson Button Benetton first test jerez 1999pcs worldwide
jenson Button Benetton 2001 test car
Jenson Button 005 BAR honda
Michael Schumacher F2004
michael Schumacher F248
Ralf Schumacher 1st win at imola
Nico Rsoberg Fw28 fastest lap Bahrain
Mark Webber Fw27
Jarno Trulli TF105
Olivier Panis TF104 showcar
Nick Heidfield F1.08 BMW dealer edition
nick Heidfield F1.09 BMW Dealer Edition
Robert Kubica F1.09 BMW dealer edition.
Heres an old picture of me 1:18 scale collection before christmas, Theres 4 or 5 missin from it;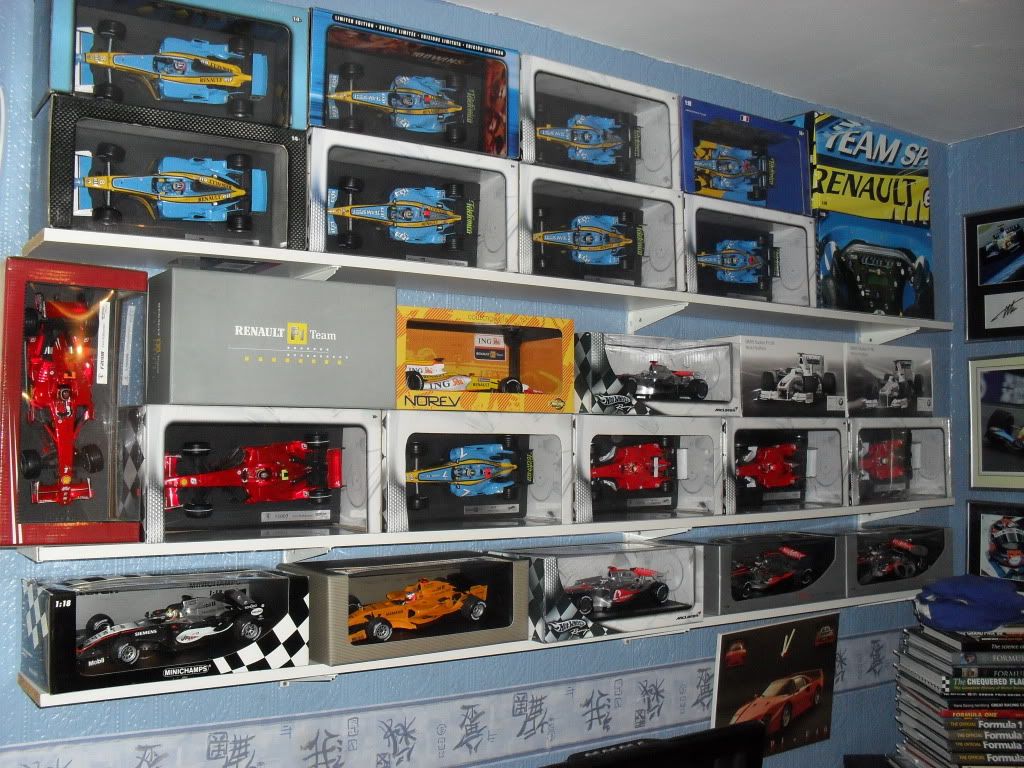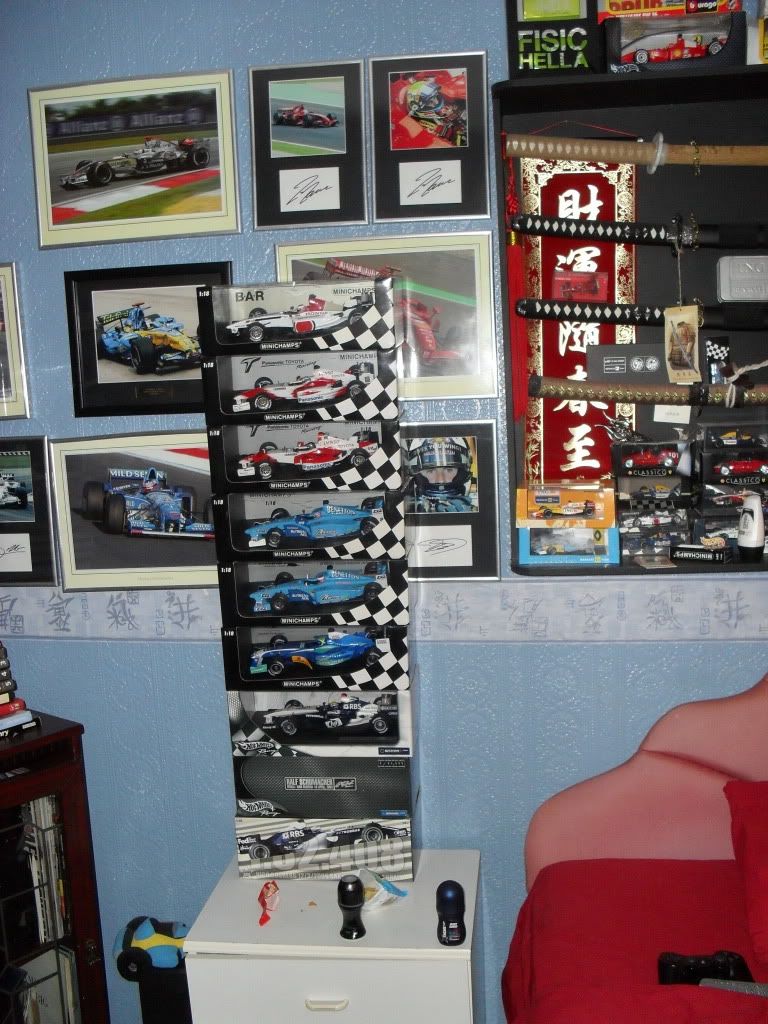 ive now got models coming out of me ears and at the side of my television and nearly touching my roof. Thats not excluding my sword cabinet full of f1 stuff;