Hello everybody.
I'm pretty sure you saw me b*tch about it in the past. Well, now, I want people to gain knowledge on how to spot them. I will explain roughly on how to detect transcodes with two softwares :
1. Adobe Audition (Trial should do the job, but still ~400$ to buy).
2. Audacity (Free and open source - google it).
3. Spek : http://www.spek-project.org/ (Not covered here, but straight forward)
-------------------
So, to start off, let's get a little background. Let's say someone shared you an extended from Super Eurobeat 183 for a long time and somebody suddenly step in and share, OMG, a MP3 320!!! But is this MP3 320 is really a good MP3 320k encode? Let's see how to find out.
Adobe Audition
The best software out there for that is the Adobe Audition line. To check it out, load your MP3 and go into Waveform mode (aka single file edit mode) and click in the waveform somewhere in the tune. Then go Window -> Frequencies Analysis.
A window should appear with the analysis at the current point in the song.
Audacity
The free solution and it is able to let you know what you want. Google and install. Load your song and click somewhere on it then go Analysis -> Plot Spectrum. Audacity will prompt that it can only analysis like the 4 first minutes, but that's more than enough. A graphic should appear. That's what you want.
But... but... that's all good but what frenquencies is what quality
Check this out :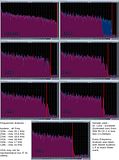 click to enlarge
Be sure to enlarge the picture. Even if those are "approximative", it should give you a good idea. If the song was originall VBR, you can spot this by seeing that it settles for a minimum and a maximum frequency instead of only of a maximum. Your best bet is to play the end to see if quality diminish with less sound. Happens a lot for AAC.
Anyway, I won't go into details. Note that, I reserve right to remove a download if it's transcoded.
Suspect list
EVERYTHING that was downloaded from iTunes Japan (m4p 128kbps), mu-mo/mora (DROM WMA 128kbps) and Musico (DRM WMA 128kbps for Avex releases). You CANNOT get extra quality by encoding at 320kbps. So, the "extended" that you got for you SEB 183 song has probably been downloaded from mu-mo/mora or Musico. Be sure to check with either software and if it was badly encoded, re-encode accordingly to save space and to have exact information.
Exception from iTunes Japan : if the item was "iTunes Plus", it's still transcoded (because M4A 256k VBR is better quality than MP3 320) but less noticeable.
It's annoying to everybody, don't try to hide the truth, somebody will unveil it someday.
This post has been edited by Lebon14 on Apr 9 2011, 10:54 PM