Well ok wow, where do I start.
Tonight I found my camera, which isn't really good quality but whatever.
I took a video of the whole place with just me and my friend.
I came really prepared tonight:
- Extra food
- Towel
- Extra clothes
had some drinks/food then we set the radio playing on the entire arcade/bar to idforums radio and cranked it up! LOL
This is all on video including my soon to be world record run.
My cp1 is now 0.2 faster than Taro's best, cp2 is 0.1 faster and cp3 keeps getting worse and worse LoL, cp4 is like exact same.
My best CPs so far:
45.735
46.997
51.332
43.603
so possible 07'6 if only I can get my cp3 back. .3 is already slow enough...
I can hit .7 on cp1 almost consistantly now, low .8 for sure, cp2 is stuck at 47'1 most of the time and cp3 is a horrible 51'5 or 6.... I can't get it down again.
cp4 is always .6 something so doesn't matter about that.
Anyways, I'm 4th in the world now, I beat Japan with a 08'1something
Will do more shit tomorrow night. Man, everytime we exit the arcade, it's like 5:45am and the sun is up, it's so weird going outside and it's bright...
EDIT: Oh... did I forget to mention it's waaaay too hot in there at night?
Since everyone's gone the airconditioning is off so...
Yeah, I'm forced to play without a shirt and also the reason why I brought the towel! hahaha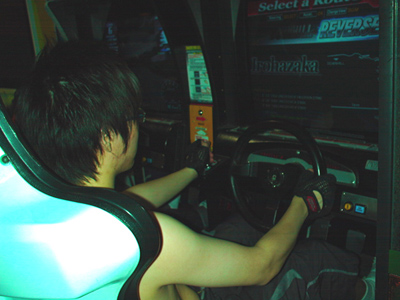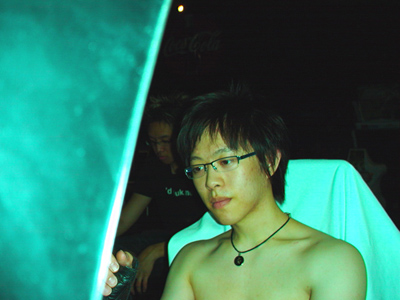 No one around so why not??
EDIT 2:
Did I mention the video is GODLY quality?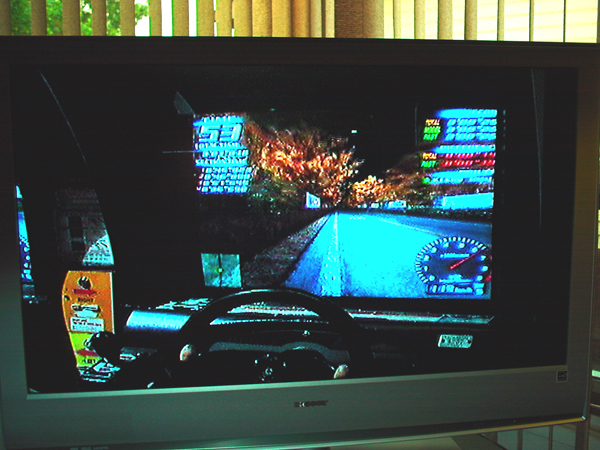 Thats the pic of it on my Widescreen TV, yeah it's analog so the quality is naturally better but now I gotta find a way to get it on computer without losing that quality.
This post has been edited by razorsuKe on Jul 19 2007, 05:41 AM