The hype surrounding the new Initial D movie is turning white-hot as we get closer to the release date. (8.23) MEGAWEB, a theme park based on cars that's located in the heart of Tokyo Bay, is hosting a 7-day event (8.11~8.17) in Daiba, Japan. Not only is this a long event, the name of the event is also long. Are you ready for this?
The event is called New Theatrical Initial D The Movie Legend 1 -Awakening- Public Commemoration 86 "Super" Summer Festival in Daiba at Mega Web「新劇場版 頭文字D Legend1-覚醒-公開記念 86"超"夏祭り」
Whew, glad we get that covered. There will be Initial D original art exhibition at the event, as well as real showcase of AE86, FD & FC at the venue. Attendees will get a chance to sit behind the wheel of the cars shown in Initial D. For the original art exhibition, there will be an event where the fans get to pick the 86 best scenes from the manga.
On August 14th, special guest Keiichi Tsuchiya and other developers for the movie will have a discussion panel that focus on 86, cars in general, as well as some behind the scenes of making the new Initial D movie. On the 16th and 17th, there will be professional drivers competing in those real cars.
It will be a fun-filled week at MEGAWEB. If you happen to be in Japan, be sure to check it out! Use the resources link below for more information.
| Resources |
»【頭文字D-覚醒- 全国公開記念】 86"超"夏祭り in Daiba |
http://kodansha-bc.com/bc/archives/4049
» 新劇場版「頭文字D」 車のテーマパークMEGA WEBでイベント開催 |
http://yukan-news.ameba.jp/20140718-6917/
» 見て乗って感じる クルマのテーマパーク MEGA WEB |
http://megaweb.gr.jp/article/initial_d/
» 86 "Super" Summer Festival Schedule |
http://megaweb.gr.jp/article_up/initial_d/images/sche.pdf
» MEGAWEB - Google Maps |
https://goo.gl/maps/Xzbtz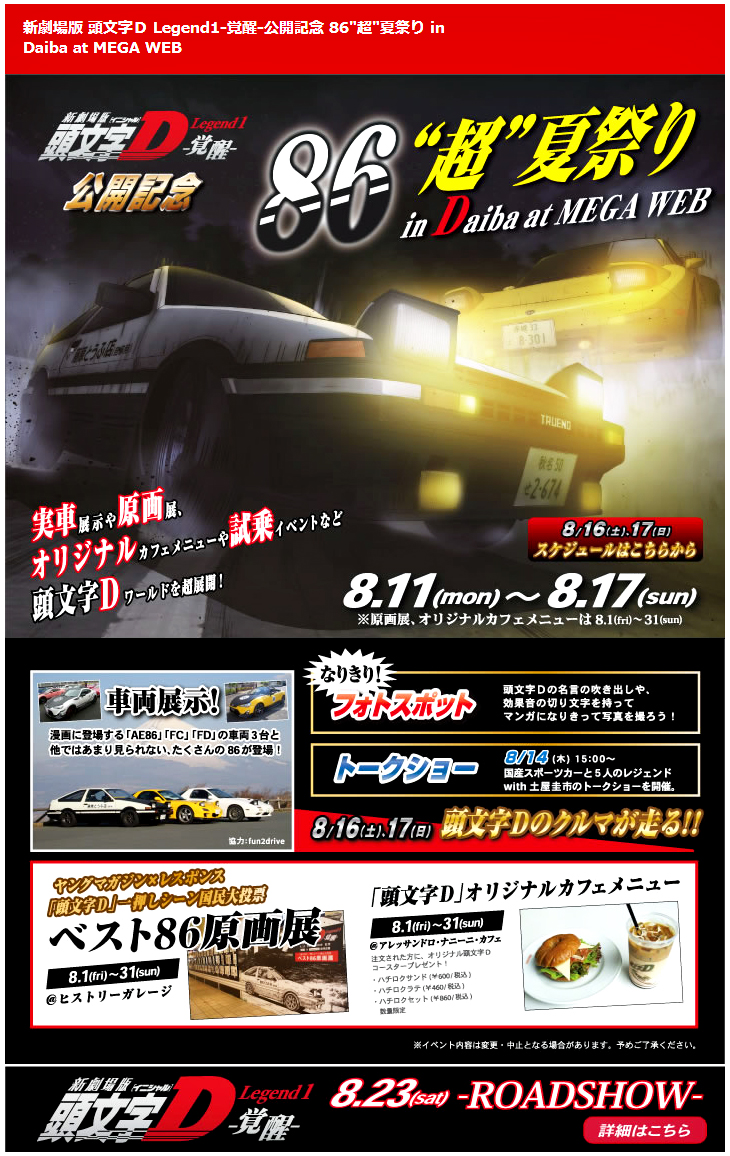 Image size reduced, original size: 730 x 1156.
Click here
to view the image in its original dimension.
This post has been edited by Initial D World on Aug 11 2014, 11:33 PM