Alright, since IDAS5 is right around the corner, and since I've broken out of the 3 flat barrier and got my 2'59"xxx time already, I figured I'd give my last parting gift for IDAS4 to all the aspiring Akina players here.
Take note, this guide was once classified information posted just for GAROU. After contemplating, I've shared it with the rest of the world like I said, to help out those in need.
Any plans to republish this information or re-post it somewhere I dont mind as long as you ask permission and please, please PLEASE give a little credit, ok?
Good luck!
******************************
Before reading further, be advised that this thread contains my exact line on how, when, where and why techniques regarding Akina Downhill Dry. Also remember that in every course techs thread I do, I will always make a simulation based on the course car of the said map which in this case is the AE86 Trueno. If you have any questions, you can post in this thread but do remember that this is MY line and you only have the right to dispute anything if you have a faster time than me.
This is classified information and must not be shared or distributed in any way. Thousands of pesos were spent just to formulate these techniques and you now have it in your fingertips. Basic skills like lining should already be mastered so if you still followed my guide to the letter but still have a slow speed, then its your fault, not mine.
Remember, I can only show you the path. What you do with it is up to you
Akina Downhill Dry 3 Flat timing Simulation
How to use this guide:
I've broken it down into sections. If you're still not familiar with the map and what I'm talking about, go practice some more and refer to me once you cannot break your time anymore. I've also put in bird's eye view of the map to help you in deciphering what I typed down. On hairpins, I will put the best "Entry Speed" and "Exit Speed" needed. If you want a "non-pushed" line, subtract 1 to 2 kph from the optimum speed at the exit.
Adjustments are made by driver preference and by car being used but like I said above, this is a guide to be used while in an AE86 Trueno.
Important notes needed for Akina DH:
*Early Turning*
- Very, very important as in all maps. But more so in Akina. From the 1st turn to the most important 2nd turn, everything must be done early.
*Late Downshift*
- As proven especially in the 5i4o turn, shifting too early makes your speed go down too fast therefore robbing you of getting the best speed you can at the apex. As in the 5i4o turn where your entry speed should be 158 or above, if you downshift TOO EARLY, your speed goes down lightning speed to 144 which is the limit of your 4th gear, THEN it starts decelerating more because you're turning. What should be done is to do the early turn while braking, your speed goes down but not too fast, giving you optimum speed at the apex, once you reach the limit which is 144, downshift. You will find out your speed will be almost 140 kph. Why? Because you did a late downshift, your speed did not "automatically" go down to 144, giving optimum "speed-in-relation-to-distance" ratio.
*The Last Minute Entry*
- Sounds ironic if you read the earlier topic but yes, there is a thing called the "The Last Minute Entry". The point of this technique is to push 1kph more than the safest entry speed on a minor turn which subtracts precious milliseconds from your time but more importantly provides you with more power on the exit. My example would be the very first slight right turn before the 1st turn of Akina. If you keep on going and do an average good line, sticking to the inside and turning early on that slight small turn, your speed would probably be 153kph. Now try to do a delayed turn, this is what is going to happen. Your speed will clock to 154 kph AND THEN you jerk the wheel hard on the turn, ensuring you still have the inside line. Very effective and essential not only in Akina DH but in a lot of maps and is what I consider one of my best-kept secrets. This technique requires daring. Remember, if you dont have "daring", you shouldnt be playing a racing game. ALSO TAKE NOTE THAT THIS SHOULD ONLY BE DONE ENTERING MINOR TURNS, NOT ON HAIRPINS. HAIRPINS NEED AN EARLY TURN.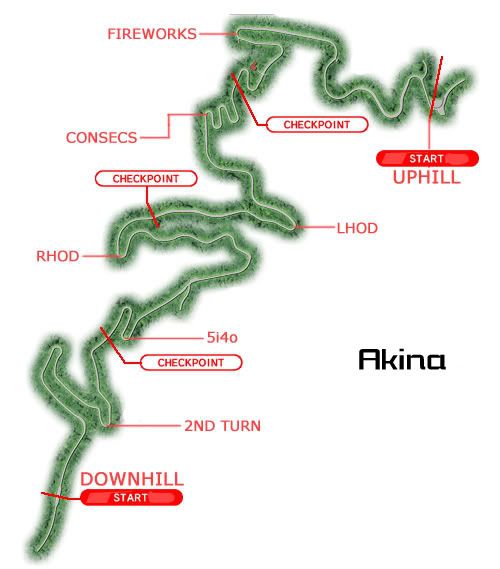 1ST SECTION:
FIRST TURN:
Entry Speed: 158-159
Best Exit Speed: 138 above
Entry line should be either MID to IN or if you can do it, IN to IN. The points where we used to release the gas back in ver1.2 is actually the start of our braking point for ver1.5. Turn early while braking, right down to the apex, "feel" the weight of the car slightly shift to the inside line. The angle changes. Do a *late downshift*. Countersteer, and immediately take the line on the left. At the 138 exit speed I stated above, your car should already overrev at 144 before the slight, small left turn immediately after the 1st turn.
SECOND TURN:
Best Entry Speed: 155-156
Best Exit Speed: 136 above
This is THE most important turn in Akina Downhill. EVERYTHING relies on this turn. Screw it and you might as well force quit. Now, if you did everything correct on the 1st turn and overreved before the small left turn immediately after the 1st turn, you would be approaching a left, right, left combinational turn. The first two turns are minor ones but they are the ones that make the 2nd turn one of the hardest turns in IDAS4. Ok, entry speed on the first small left turn would be 154 above. The technique is NOT to turn hard on this small left turn. A slight jerk on the wheel, just to ensure that you have the inside line is enough. Hold the wheel steady for a microsecond for a *delayed entry* If you did this correctly, you can imagine your car taking a straght line through that small left turn rather than doing a full steer. The next small right turn is where you need to do the full steer to catch the apex. This gives you around 156 entry speed.
Now the important part.
"Fix" the car first. Straighten the car for a microsecond then start your *early turn* braking. Do not be light on the brakes with this turn. Being safe is enough rather than hitting the wall or doing an oversteer. DO NOT BE AFRAID OF THE INSIDE. You will RARELY hit the inside if you did everything correctly. The only time you will hit the inside is if you DID NOT FIX YOUR CAR before entry. Countersteer smoothly, not by jerk and quickly take the inside line on the left. There is a small turn with a gutter there which you should be entering at 140 above speed. Finally, there is a sharp right turn where you should do a *delayed turn*. Entry speed before this SHOULD be at least 153. Anything lower is not enough. Anything faster gives you a chance to get a good 2nd section.
2ND SECTION:
FIRST RIGHT HAIRPIN
Best Entry Speed: 158 above
Best Exit Speed: 141 above
Immediately after the 1st cp is a sharp right turn. Entry is extremely early turn. The line is mid to in (slightly more on the inside than mid actually), If you turn early enough, all you'll be seeing is the wall. But again, DO NOT BE AFRAID OF THE INSIDE. This is a fast timing simulation, not a noob simulation. So you should be pushing the inside line as much as you can. If you do everything correctly anyway, have faith. Again, once you "feel" the car shift its weight to the inside, countersteer smoothly. You might feel the car "float" a bit here but do not worry. If you pressed on the brake enough, the car will be stable after a bit. Also, if you did everything correctly (including the *late downshift*), you should be able to shift up to 5th gear before the 5i40 hairpin. Immediately take the inside line on the right and prepare for the 5i4o turn.
5i4o HAIRPIN
(refer to the map)
Best Entry Speed: 145 above
Best Exit Speed: 130 above
Mid to in entry. This hairpin requires another *early turn*. Get used to just seeing walls because you'll be getting this a lot. This turn does not require a late downshift because you're almost at the limit of the 4th gear. Still, doing a *late downshift* actually gives you a more stable exit. The brake pressure here isnt too hard. You can gas a little early as long as you push the apex. Countersteer smoothly and feel your car sliding smoothy and sliding to the wall. A Takumi Moment. There is a small right turn after this hairpin and you should take the inside. Exit speed at that small turn should be around 158 above. At the end of the long straightway, you SHOULD be at least at 168 or higher speed.
RHOD
(refer to the map)
Best Entry Speed: 169 above
Best Exit Speed: 146 above
If you did the 5i4o hairpin correctly, and did the small consecutive minor turns with good lining and *delayed turning*, your exit speed at the long left turn before the RHOD should be around 169 KPH. You should be able to see some red stripes on the ground. This is your visual cue. Imagine those red stripes as one big rectangular box. Now cut that box in half, the mid point where you cut that box is where you should start turning. This is an EXTREMELY *early turn*. You will rarely hit the apex so do a full turn on this. Countersteer quickly but smoothly and you should be around 145 or 146 exit speed. DO NOT DOWNSHIFT TO 4TH GEAR IF YOU ENTERED THE RHOD AT LEAST 165 OR HIGHER.
3RD SECTION:
3-LANE TURN
(incorrectly termed as the LHOD on the map above)
Best Entry Speed: 177KPH (overreving)
Best Exit Speed: 159-160 above
If there was a place that you should do the ULTIMATE EXTREMELY MEGALOMANIACLY EARLY TURN, it should be done here. The entry point is a MID to IN line. Refer to the map above. Before the 3-Lane Turn is a very small minor right turn. Now imagine the mid point of the distance between that small right turn and the 3-lane turn and you will have the exact entry point where you should start braking. Once you reach the apex, try gassing a little early while doing a smooth countersteer. You'll probably hit the wall a few times as you try to push the exit speed. Average would probably be around 157 or so. Hitting a 160 gives you good entry speed as you enter the consecs.
CONSECS:
(divided into 4 turns)
1st Turn
Best Entry Speed: 176-177
Best Exit Speed: 136 above
Coming from the short straightways, you should be slightly on the overrev limit as you enter the consecs. There is a visual aid where you should turn. The "straightway" before the consecs is not actually straight. If you stick on the right which is the inside line, you will see a small "V" shaped outcropping slightly before the turn. START BRAKING ON THAT OUTCROPPING. Rape the wall as you turn, downshift to 4th gear and countersteer quickly after the apex and let your car hit the wall on the left slightly scraping it (SCRAPE IT, DO NOT RAM IT). Keep scraping until the entry to the 2nd turn.
2nd Turn
Best Entry Speed: 140
Best Exit Speed 125 above
Before entering the turn, you should be "scraping" the left wall before the turn. Your speed will still be accelerating. Do an *early turn* and slightly rape the inside line. DO NOT DOWNSHIFT UNLESS SPEED HITS 119. Brakes should not be pressed hard. Countersteer quickly and try not to hit any walls from this part on.
3rd Turn
Best Entry Speed: 130
Best Exit Speed: 125 above
Do an *early turn* but DO NOT BRAKE. Just slighly release the gas a bit and downshift to 3rd gear as you turn. The countersteer should be smoothly done after the apex. Once again, do not hit the walls on exit.
4th Turn
Best Entry Speed: 129 above
Best Exit Speed: 127 above
Do the exact thing you did on the 3rd turn but turning to the left this time. Again, this turn doesnt require any braking. Countersteer quickly and stop your car as it drifts to the right. You are about to enter the 4th section.
4TH SECTION:
EXTENDED R-BEND
Best Entry Speed: 144
Best Exit Speed: 126 above (after the right turn) and 128 above (after the left turn)
The Extended R-Bend is a right-left turn combo immediately after CP3. Again, do an *Early Turn* for the right turn. Gassing quickly on the exit and staying on the left line to get ready for the entry on the left turn. DO NOT BRAKE ON THE LEFT TURN - Only slightly release the gas a bit and your car will slide to the right on exit. Stop it with a smooth countersteer and stick on the inside line.
FIREWORKS
(refer to the map)
Best Entry Speed: 150
Best Exit Speed: 139 above
The most important turn on the 4th section requires you to do an *early turn* BUT do not be complacent and control the car. This is the one turn where there is a good tendency to hit the inside line. As your car's weight shifts to the right, jerk the wheel to the left, countersteering quickly to avoid the inside line. Done correctly, you should be hitting 164 at the end of the long straightway.
LAST TURN
Best Entry Speed: 169 above
Best Exit Speed: 160 above and accelerating
Steer fully on the turn without releasing the gas or braking. As you reach the middle of the turn, very slightly tap on the brakes. If done correctly, you should be accelerating after this turn.
WOLF'S NOTES:
"Akina DH is the proving grounds for you to be familiar with the physics of ANY version of IDAS. In 1.5, you should pay attention to how the car "feels" rather than visual cues. On practice, you should be having more faith in your skills. When I turn on the hairpins, I actually take my eyes on the road and keep it glued on the tachometer so I know when exactly to stop braking or start gassing. This is a technique born on instinct and done by practice, practice, practice. Keep at it and you'll surely get it.

I will not do another Akina guide again unless there are changes on the lines and entry points. a 3 Flat in Akina DH is considered really fast already. Sub 3 is pro standards.

I surely hope you guys appreciate this. I dont want to spoonfeed you guys anymore but I do love the team. And for us to reach our goals, I do have to teach which I love to do anyway. It took me all night to make this guide. And dont worry, I'll be making more as I play more. Till then... SPEED AND HONOR!"
- Wolf