Hey guys! for those who miss my comics, never fear!!
This was a late comic post since I was looking for these for days now. Anyway, here it is!
The speed Legend Prologue Insert Story!!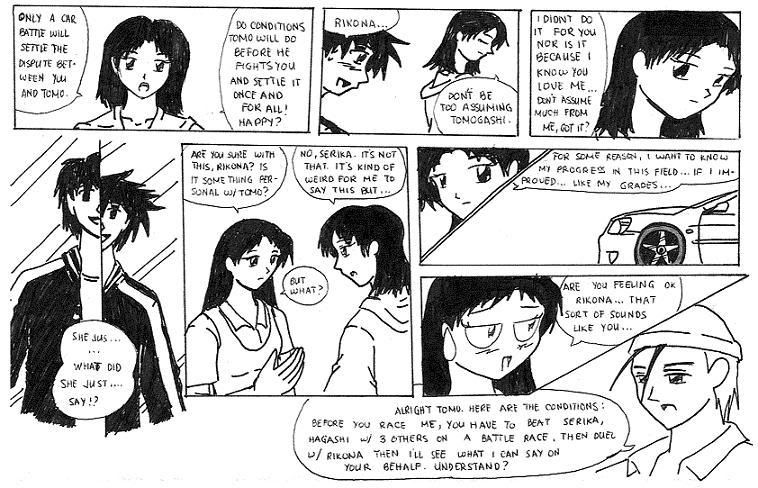 Video - Tomo vs Rikona at Tsukuba [WET]
Now! Back to the current story.
Chapter 14 - A battle for the wrong cause Part 2
At Infenion, the rest of the team seem worried.
Kasumi is in a corner holding a picture of Tomo tightly in her chest.
Sakura is just beside her to comfort her.
The rest of the group have their eyes pinned on the Television screen hoping to see Tomo win the race.
All 4 cars are stepping on the accelerator, making huge rev sounds.
They are placed in this order (from the back)
Tomo GT-R --> Corvette C6 --> Lan Evo 9 --> Skyline R34 GT-R
Daiki is starting the countdown.
3!! 2!! 1!! GO!!!!
The GT-R and Lan Evo rocketed out of the starting line.
The corvette followed in it's usual FR type acceleration - slow start with a huge burnout compared to a 4WD.
Tomo followed along.
He passed the corvette before entering the first bend.
The blue GT-R rode the center of the road and the inner dirt lane.
Distance was huge when comparing these 4...
There was around 200 meters per car. 75 meters between the leading black R34 and Evo 9.
"To save some time and to decrease the gap, I have to control the car in high speed through the bends. Deceleration will be my braking. I hope tetsuya managed to set the suspension right... Because... the car's jumping all over the place... the road surface is bad in this road... It is totally killing my speed!" Tomo strategized.
The GT-R driver leading is communicating to the Evo driver...
"Looks like he's having trouble with the road surface."
"What an idiot. He never bothers to check his suspension setting? such a big L!"
"Guys" the Corvette driver joined in the conversation. "You better pull away quickly. despite what you're saying there, he's picking up speed."
"you sure with that?"
"I'm positive. Quickly! Pull away. I'll be alright as long as you guys are leading."
With the big turbo equipped on the lancer and GT-R, they start to pull away once they reach the exit of the corner.
Tomo followed up. His GT-R punched to fifth at 9000 rpm. He is reaching around 187 mph. He's slowly catching up to the Lan Evo.
There was a huge change in elevation in the road they're on.
The Lan Evo and GT-R slowed down as their cars gained air.
Tomo on the other hand can't help but pin his foot in the accelerator.
His GT-R gained air but as soon as his car lands on the road surface, the front bumpers lower extension made contact with the road first, causing his GT-R to lose balance.
Tomo panicked and removed his foot from the gas. He powerslided to safety as soon as his car was tilting at an angle.
He gained control again; he was safe.
At Infenion, everyone was relieved to see Tomo still alright.
Kasumi was an inch away from fainting over the close-call-calamity.
Tomo's jump was high enough to clear a 50 meter gap behind the Lan Evo 9.
They are now halfway through the pass.
The Lan Evo driver is starting to become cocky.
"Alright we're so gonna win this."
Suddenly he hears a car tap the back of his bumper.
"What the? Is it our corvette? or that noob?"
He looks at his rearview mirror and notices a blue GT-R right behind him!
"What the!? No way!!"
Tomo's GT-R is riding in a steady 235 mph.
He now decides to cut through. He quickly swerves to the left of the Evo and overtakes at a higher speed.
The Evo was just stuck at 210 mph; it was easy for Tomo to cut through; but he didn't stay infront of the Evo but he was just on the next lane, trying to retain his 230 which is slowly dropping.
He's slowly catching up to the leading GT-R.
"I need to get closer to this fast GT-R..." Tomo reacted.
"I need to pull away from this dude!" the black GT-R driver said to himself.
They are only 2 miles away from the finish.
The GT-R's are closely tailing each other.
Tomo now decides to splitstream next to the other GT-R. It was a successful attempt.
He's closing in; they're now neck a neck!
"I'm not gonna let you! Not a chance!!"
The Black GT-R rammed Tomo's GT-R causing both to lose control.
Both cars are off balance. The Black GT-R suddenly went into a barrelroll and landed on it's hood. Tomo stopped but was facing the wrong direction. He immediately shifted to Reverse. He was 100 meters away. The Evo 9 is closing the gap. Tomo was about to panic!
"It's time for a 360!!"
He is still geared in reverse; he turns his car towards the left for a quick spin; he immediately shifts from R to 1 and punches on the gas and clutch.
Tomo made it to the finish and made a quick sigh of relief.
His car is positioned horizontally like a roadblock in the middle of the street.
Tomo was exhausted.
But the Evo driver is coming close by!
Tomo quickly shifted to 1 before the impact.
Luckily there were no serious damages except for the black GTR; but the Blue R34's rear bumper was severly damaged from the impact with the Lan Evo.
"Whoo! Close call... You alright Kitsumoro?" Daiki asked through a walkie talkie.
"I... am... let's head back... we got a finals to settle..."
The GT-R returned for Daiki then, they headed back to Infenion.
Back at the carnage site...
"This is supreme bull!"
"Don't say anything further. If Lucas hears about this..."
"He won't do anything unless he hears it."
Suddenly, a blue Corvette speeding by skids to a stop at the Black GT-R with the evo and C6.
"I...it's..."
"Lost huh?" A voice said from the Blue Corvette.
"It's nothing, boss..."
"Boss... don't tell me you'll be after..."
"No I won't... I wanna talk to this kid. Plus, I got some stuff to do right now."
"What a relief... We don't want your hands to get dirty over this."
"I heard he's in town... with team Japan is that right?"
"yeah..."
"Along with Akiyama Daiki?"
"Whoa! How did you know, boss?"
"It's in the net, stupid."
"Anyway... I'll talk to him once I see him, but not now. See you in our next meeting."
The driver of the Blue Corvette shifts to first.
Then, he speeds off with a huge burnout.
The LS7's supercharged engine shifts to 2 at amazing speed.
The rest of the crew were left dumbdounded.
"I've never seen boss so calm like this""you got that right. I mean when we lose, he'd like hit our heads or something...""Something's up with boss... but I don't know what or why..."
They just stood there thinking... or in the point of view of others, acting stupid as they looked towards the sky.
The sound of the Blue Corvette ZO6 was the only sound that echoed throughout the Nevada desert speedway.
Chapter 15 - Battle of the R Emblem!! A rerun
The Blue, battle-scarred GT-R returns to Infenion to race in the final match of the mock-contest. The Rear bumper is close to falling off; everybody was shock seeing the damage done. Tomo comes out unharmed, which gave a sign of relief for the rest of the team members. Kasumi however is still worried.
"Tomo! Are you sure you're alright? Can you walk?"
"I still can. Don't worry too much about me."
"But... but..."
"Kasumi, Tomo's fine. I saw him unharmed after the race..." Daiki said.
"Alright." Kasumi is convinced.
"We're back on track, team. Thanks to Tomo here, we can pursue the final match. There will be a 15 minute break first, giving time for Tetsuya to fix the rear of the Skyline."
"I'll help." Hiei insisted.
"Me too!" Ryusen followed.
Tetsuya, Tomo, Hiei, and Ryusen are hurriedly fixing up the Skyline. Good thing they bring spare parts of the cars in one of their trailers. It was easy for Tetsuya to change them.
Within fifteen minutes, the R34 was repaired.
"Is the rear okay?" Tomo asked.
"It's all good! You can start anytime." Tetsuya replied.
Tomo gives a thumbs up to Daiki.
"Okay. Will Tomo and Sakura please line up their cars to the starting line." Daiki hollered.
Sakura slowly brings the GT-R onto the starting line.
Tomo was all set, he was just waiting for her to line her car up.
Sakura gets out of her car.
"Doesn't this remind you of our battle at Akina?"
"I still remember that battle."
"You guys already battled?" Daiki wondered.
"Yeah. When I was still under Takeshi Musashiro and Reminiscent White. A slight Musashiro conflict that got both of us involved unfortulately." Tomo answered.
"Yeah, I mean... we're the solution to the debate of Takeshi and Hikari"
"It's too bad though, neither in the team except us knows that we raced against each other."
Tomo faces Sakura, Sakura faces him back.
"Shall we start?"
"Lets!"
The 2 RB drivers got into their cars. Daiki was starting the countdown.
Sounds of loud, roaring engines are what they hear.
The needles are approaching 9000 rpm.
"Let's start the countdown!!"
Everybody was excited. They were all cheering for both!
3!-->2!-->1-->GO!!!
Both GT-Rs took off the starting line at lightning speed! Daiki got blown away a bit when they boosted away!
This battle is gonna be good
Tomo was on the outside, Sakura was on the inside.
The first bend of the Sports car course was up. Tomo decides to floor it on the outside.
Sakura decelerates a bit to position her car for the next corner.
Then there was the right hand corner.
Sakura attacks towards the inside.
She was too close to Tomo who was riding the curb. Tomo gained the lead exiting that corner.
"argh..." Tomo whispered as he switched gears...
"It wasn't like this a while ago. Why now?"
Because of the pain plaguing Tomo, his car slowed down during shifting.
Sakura is sticking really close to the GT-R.
Back at the Pits...
"Say, Tetsuya," Shimizu wondered. "What's the difference between Tomo and Sakura's GT-R34s?"
"The difference?" Tetsuya verified.
"Yeah... are there any, since you are their repairman."
"Well, for starters, the model year and type. Tomo's is a V-specII Nur, while Sakura's is an early V-spec I based on the 1999 model. In terms of upgrades, Tomo's basic upgrade was Mine's based while Sakura's was Tommykaira based. Now they both have a percentage of Nismo upgrades. Sakura's is racing based, when it comes to other parts; Tomo's is street based with a bit of pro-racing influence."
"If there's a difference, it's unlikely..."
"So their cars are equal, apparently, huh?" Daiki added.
"That's right." Tetsuya concluded.
"Now... only driving style and technique will differentiate these two
equals
"
The 2 GT-Rs sped through the next set of corners before the hairpin...
This post has been edited by Gunma's 34 on Aug 1 2008, 10:28 PM