First off, I would like to give you all this: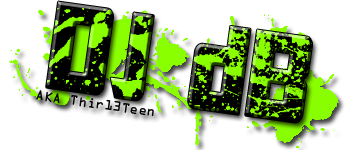 My new radio tag; u liek?
Oh, and don't forget this Saturday; I shall unleash the epic Total Metal Block from 11-1 EST, or 8-10 PST. I'll be playing a small snippet of my heavy metal archive of over 1000 songs. Everything from the godfathers of metal as in Sabbath & Zeppelin, to NWOBHM like Motorhead and Maiden, thrash gods Megadeth, Slayer and Metallica, a few Black Metal songs, and a tasty 3-minute drum solo by Canada's own Neil Peart of Rush on a live version of YYZ. So come on in early, and enjoy the pure unadulterated headbanging, hard rock, and heavy metal. Ya got that suckas?





EDIT: Okay, so this saturday, it shall be time for the amazing music that is indie/alternative. Yes that's right, "WTF IS THIS SHIT: The Indie Block" will be playing. Now for those who don't know, "Indie" is the genre of music that is based off of independent labels that are not ran by major record companies. A good majority of it came from the 1990s, in genres such as grunge, britpop, post-grunge, hardcore punk, and heavy metal. Most of the stuff is music that you may have heard, but the theme is "independent", not necessarily "obscure". The title's ironic, I know, but the music is just plain effing awesome, so tune in this Saturday night from 11-1 EST It will be followed by my first Techno show the next week. Still no name/poster for it, but it'll be coming soon, so don't you forget that the awesomeness shall be commencing once again this Saturday!
It's time to take Saturday night and put it into a full-nelson!
This post has been edited by Thir13Teen on Jan 27 2009, 04:06 PM